A conversation I had with a dying patient went global by means of David Bowie
24 November 2016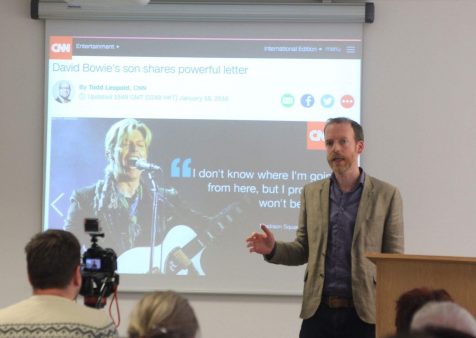 Dr Mark Taubert

(MSc 2010)

is a Consultant Physician in Palliative Medicine for Velindre NHS Trust and a Tutor on Cardiff University MSc in  Palliative Medicine course. Here he shares his experience of a letter he wrote going global following the death of David Bowie.
When David Bowie's death was announced, I noticed a general sense of shock at the news.
Rapidly, more words describing his death started appearing in the media; 'liver cancer', 'death at home', 'peaceful'.
That day in my role as a palliative care doctor, I met a lady who had just received an advanced cancer diagnosis. She was trying to process the news that she may not have much longer to live and what this meant. So we talked and then somehow we started to chat about David Bowie.
The weeks that followed, I discussed the Starman's death with other patients and relatives. Struck by this, I wrote down some thoughts which flowed into a letter. The letter became a good-bye and thank you note to David Bowie, and bit by bit I added a number of aspects about my own life, the patient's life and more generally what our aims are in the specialty of palliative care.
The letter captured some of the big topics in end of life care, such as how much medical intervention people actually want – this included the difficult topic of Do Not Attempt Cardiopulmonary Resuscitation. The letter also referenced a project we are currently running: #TalkCPR, which encourages patients and their lovedones to discuss this very frankly and openly, if they so wish.
The letter was published on a specialist medical blog and picked up by the charity Marie Curie. Later, David Bowie's son, Duncan Jones, retweeted my letter – his only interaction with the wider world following his father's death. For the next few days, my email, social media feed and phone went mad and I found journalists on my door step.  As doctors,  we are always taught to avoid the media, so I felt out of my comfort zone. But it soon became clear that palliative care was becoming something that many people wanted to talk about. The letter has since been read out by Benedict Cumberbatch and Jarvis Cocker and there have been occasions where I have had to pinch myself about the impact this has had.
I teach on the Cardiff University Diploma in Palliative Medicine course, and since writing the letter, students have approached me saying that they are using it to teach others about the meaning of palliative care.
Many people expressed profound gratitude at being given the words, insights and perhaps vocabulary to express an aspect of our lives that we would often rather avoid talking about, but that, at some point, affects us all.