Aberfan remembered
18 November 2016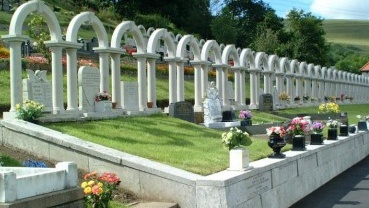 On 21 October 1966, a massive spoil-heap slid onto the mining village of Aberfan near Merthyr Tydfil, burying Pantglas Junior School in the valley below and killing 116 children and 28 adults. This tragic event changed the lives of many and the way mines and quarries were managed for the future.
To commemorate the tragedy,  Cardiff University held a series of events with witnesses and survivors sharing their experiences.
Cardiff's School of Medicine hosted a talk by Profesor Sir Mansel Aylward CBE, one of the first medics on the scene. The talk was part of a series aimed at helping doctors and medical students in Wales understand the true impact of such an event on the communities they serve. The talks explored the impact of disasters on communities, and the importance of industry to the health and wellbeing of communities across the UK. Sir Mansel's retelling of his experience at Aberfan also formed part of 'The Green Hollow', a BBC film poem based around the voices and memories of those involved with the tragedy.
Survivors, rescuers and journalists involved in the Aberfan disaster also spoke of their experiences publicly at a conference in Cardiff's School of Journalism, Media and Cultural Studies. At the event, there were several powerful testimonies from those who had worked in the media at the time and also from the residents of Aberfan, some of whom felt moved to stand up and tell their own stories for the first time. New York based photojournalist Chuck Rapoport, who captured the aftermath of the disaster, presented his photographs of Aberfan and its people. He said: "It was the first major disaster of its kind that was televised. I watched with my child on my lap and was so moved I knew that I had to connect with these people."
Writing separately, documentary lecturer Dr Janet Harris noted how the University setting and the frank and open admissions of speakers created a unique space for survivors and witnesses to speak publicly about the disaster.
Cardiff University also released a film with Jeff Edwards- the last child to be pulled from the school in Aberfan who spoke of the importance of Cardiff University research into preventing future disasters.