Jessica Steventon ( BSc 2009, PhD 2015)
21 November 2016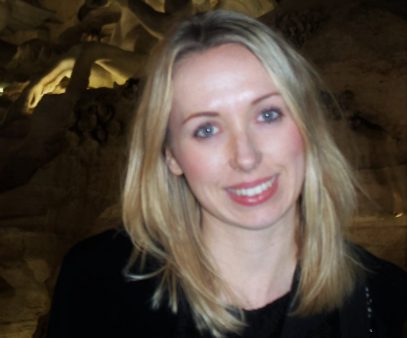 Working within the Neuroscience and Mental Health Research Institute (NMHRI), Dr Jessica Steventon is based within the newly opened Cardiff University Brain Research Imaging Centre (CUBRIC) facility at Maindy Park.
Here she explains more about her role at the cutting edge of mental health and neuroscience research – and how the Centre is putting Cardiff on the map as a truly world leading destination for psychology, psychiatry and neuroscience.
"I've always been interested in the science behind brain injuries and abnormalities," she says. "During my undergraduate degree I went on placement as a Psychology Assistant on a brain injury ward at Whitchurch Hospital that really opened my eyes.
"It meant that when I came to the final year of the programme, I was keen to select elective modules that allowed me to really study how the brain works and affects behaviour. That's what set me on a path to my current career."
As a PhD candidate, Dr Steventon investigated the brain changes that take place in Huntington's disease, using different brain imaging techniques. Now, she is expanding her research and looking at the therapeutic potential of exercise in Huntington's disease as a fully-fledged Research Fellow sponsored by the Waterloo Foundation.
With her day-to-day role being based at the Centre, she is hugely excited to bear witness to the potential of the "globally unique" MRI resources now in place at Cardiff University.
"Much of the scanning aspect of my current research was undertaken in the old facility," she said, "and so I'm very envious of those getting to use the world leading resources now available to us.
"Aside from the obvious increase in the capabilities of our non-invasive imaging, which will allow us to answer new questions about the brain, there's also the potential to expand our remit; for example, in the future, clinical trials will hopefully take place here which is very exciting."
She also feels that the opening of the Centre has enhanced an already stellar global reputation to enable Cardiff University to attract some of the world's best neuroscientists.
"The tangible progress we are making here puts us on the map as a true hub in the field – unique in Europe, but also almost unparalleled globally.
"A huge part of that burgeoning reputation is down to the international staff and students that we are now able to attract; they make a huge contribution to what we do, and their work really takes Cardiff to the next level."
Outside of her research, Dr Steventon is actively involved in STEM (Science, Technology, Engineering and Maths) initiatives – working to engage children and young people and produce the next generation of ground-breaking researchers.
She plays an active role in 'The Brain Games', an interactive learning session aimed at Key Stage 2 students (ages 8-12). The next event will take place at the National Museum Wales in Cardiff in March 2017, with more details available on our events page.