Examined life: Supachai Chuenjitwongsa (MSc 2012, PhD 2015)
10 November 2016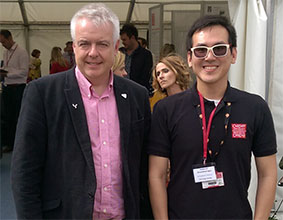 SUPACHAI CHUENJITWONGSA
As well as lecturing at a dental school in Thailand and leading various dentistry development projects for Thai practitioners, Supachai Chuenjitwongsais a fluent Welsh speaker, having helped launch Cardiff University's 'Welsh For All' programme during his studies in 2015.  
I decided to study in Wales at Cardiff University to develop a different perspective. My teacher in Thailand studied her Masters in Cardiff 30 years ago, and she recommended Cardiff as a very good place for student life. I found the city to have good shopping, good food, good local pubs, natural parks and cultural sites not far from the University – basically it had everything I expected.
I wanted to learn Welsh just to be able to read and pronounce Welsh words and street signs. A few weeks after I started my course, I found the Welsh language quite easy to learn (this is only my opinion). At the end of my Entry 1 course, my tutor recommended I go on a one-week residential course to North Wales in order to explore the Welsh language and culture further. This changed my attitude towards the language, and since then I realised my two reasons for learning Welsh: firstly, I believe it is the best way to understand Welsh culture and integrate into Welsh society, and secondly (and most importantly) I strongly believe I must respect local people by communicating with them via their own language. This pushed me to complete courses at all five levels, becoming fluent within four years.
I would say there are more similarities between Thai and Welsh than Thai and English. Sentence structure and grammar in the Thai language is quite similar to Welsh. For example, in English we say 'red car' while the Welsh and Thai say 'car red', so I make fewer mistakes when speaking Welsh than English. And yes, people are always surprised when I speak Welsh. Most people I met were happy someone from a non-Welsh background could speak and use the Welsh language.
It was a great honour to represent Cardiff University at the National Eisteddfod launching 'Welsh For All', and giving a speech (in Welsh) about my experience of learning and using the language in front of the Welsh First Minister. It was one of my best experiences here at Cardiff University. I found that being an international student able to use Welsh in both academic and non-academic contexts makes me stand out from the crowd. Welsh has opened up my life to many opportunities, but the most important thing about this experience was that I have shown that anyone can learn and use the Welsh language. I hope my message at the event will inspire more people to learn Welsh and contribute toward Welsh culture.
I am now leading the harmonisation of undergraduate dental education in Southeast Asia. I am back at the same dental school in Thailand where I worked as a lecturer before coming to Wales, leading several projects aiming to develop standards for general dental practitioners to support free movement across the region.
I am also developing a dual-degree programme between my university in Thailand and Cardiff's School of Dentistry. It is at a very early stage but I hope it is the starting point of an academic collaboration between Thailand and Wales. So my average day is mostly about managing projects and collaborating with academics from different countries. Now I do not teach students or practice as a dentist as much as I used to.
I plan to establish a Welsh Centre in my university. I am developing an elective module teaching Welsh language and culture to undergraduate students. I am working with my colleagues from Wales to find out how to implement the Welsh module in a Thai university context.
The more you use a language the more you gain fluency. I spend about 15 minutes every day reading something in Welsh, and I maintain my writing skills by writing one short paragraph (50-100 words) in Welsh every other day. I use Facebook in Welsh and chat with some friends in Welsh too.
For me, being an international student is about taking and giving. It is about what you have gained and contributed socially, as well as academically. I came to Wales to 'take' knowledge and qualifications for my future career. At the same time I needed to give something back to this lovely country. I decided to learn Welsh, promote Welsh language and culture, and contribute to Welsh society as much as I could as my way to 'give' back to Wales and Welsh people. I am so proud to be a part of Wales and able to promote the Welsh language and culture. I wish to see more people from international backgrounds able to integrate into Welsh society.