Meet #TeamCardiff – Alexa Normore
24 September 2016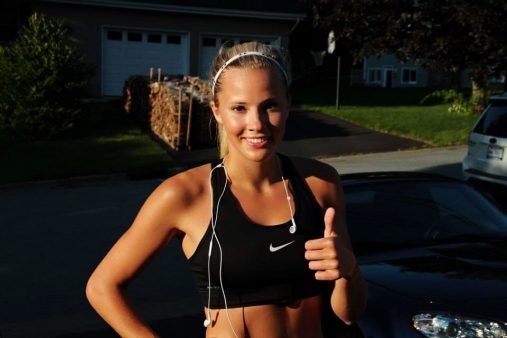 Alexa Normore (Optometry 2015-) shares her motivation for running this year's Cardiff University/Cardiff Half Marathon.
"I am originally from Canada where I was played ice hockey competitively representing my University, province and  country.  After moving to Cardiff to study Optometry, I used more of my spare time to do things that I had not had the chance to do previously due to the commitment of hockey. I've always enjoyed running, and a goal of mine was to run a half marathon.  Running, for me, has become a way of setting personal goals and achieving them, my go-to for stress relief, where I can shut off from the hectic nature of today's world!
This year's Cardiff University/Cardiff Half Marathon is a cause close to my heart. It's tough to find someone who has not been affected by cancer whether it's a family member, friend or loved one. This year, my best friend was diagnosed with breast cancer at the age of 24. It's not easy being in another continent while your  friend is going through treatment but her positivity throughout the process has really inspired me. Although I wish more than anything that I could be by her side throughout this, I hope that by funneling that energy towards both my training leading up to the half marathon, the fundraising and educating others on the importance of this research, I can contribute to finding a cure for cancer".
"I am so excited for race day! It is amazing to see the number of people dedicated towards achieving their own personal goals. Seeing so many individuals emphasising physical activity is awesome! This will be my second half marathon and the feeling crossing the finish line last time was one of the biggest adrenaline rushes I've felt. I can only imagine how it is going to feel this year, especially having such a strong motivation for running it".
To support Alexa please visit her JustGiving page.