Fiona Cumberland (BSc 2013)
22 July 2016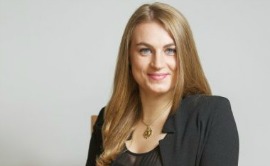 Fiona Cumberland is an Executive Associate at Kreab.
I came to Cardiff University to study the Combined BScEcon Politics (Cardiff) and Diploma d'Etudes Politiques (Bordeaux) as I wanted to develop my French and further my international education. At the end of my second year I switched to the BSc in Politics.
While I valued my year immersed in French culture, staying at Cardiff was the best decision for me. I enjoyed the small, engaging seminar groups where we critically assessed the course materials and were challenged to present our findings.
The lecturers were genuinely passionate about what they were teaching and students were consequently very engaged in the study material, resulting in regular debates and protracted discussions. This environment reinforced my ability to develop a sound argument and improved my reasoning and presentation skills, all of which have been essential to my career.
After graduating, I joined a graduate scheme as a public affairs consultant at a London agency. Following an exciting year working on clients such as TalkTalk, Airbus and SUBWAY, I was headhunted to join Kreab, a Swedish communications consultancy. I work exclusively with international clients ranging from multinational corporations to national governments, helping them with public relations, reputation management and crisis communications. I enjoy the diverse challenges of working in strategic communications, as no two clients are the same and there is often no standard way of working.
Studying politics at Cardiff helped me to think critically about problems. The essays, debates, and presentations trained me to develop work that is thoroughly researched and robust to critique. This academic foundation has given me a solid structure to work with across all my clients, and I continue to draw on course content that I learned during my degree – even things I studied in my first year at university.
In the future I'd like to become more politically active and hope to become a Councillor in my London borough. I am currently a Special Police Constable with the London Metropolitan Police, and enjoy engaging with the public and working towards community security.