Examined Life – Diana Isajeva (LLB 2016)
21 July 2016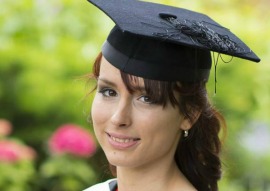 Diana Isajeva, former SU Students with Disabilities' Officer, is an Intellectual Property paralegal for CJCH Solicitors.
It was always my dream to study at Cardiff University. I attended an open day event in Year 9, where I visited Cardiff University and had a tour of the campus. I loved the University and the people so much that three years later I was studying for my LLB Law degree.
I used to be a very shy person and in my first year of University I didn't make any friends. However, things changed in my second year when I made a brave decision to get involved with student politics and run for the SU Students with Disabilities' Officer position. I was overwhelmed when I found out that I had been elected and it was one of the greatest moments of my life. I felt that I could make a change for the better. This pro-activity enabled me to meet many new people and in turn increased my communication skills and made my time at Cardiff University much more enjoyable.
Just three days after my final LLB Law exams I was offered a job. I'm currently an Intellectual Property Paralegal at CJCH solicitors. This role will give me the opportunity to travel to various countries to assist me in my research and drafting of anti-piracy cases.
I'm planning on returning to Cardiff University next year to complete my Legal Practice Course. I have no doubt that it will be as innovative, diverse, supportive, encouraging and inclusive as it was the first time around.
Cardiff University is a great place. It offers not only various extra curriculum events, but also has amazing staff and students who are always there to help.