Sarah Potter (MSc 2013)
14 July 2016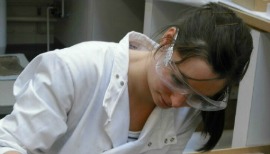 Sarah Potter is a preventive conservator at the Manchester Museum and Whitworth Art Gallery.
I was drawn to this career by the need for knowledge of our past selves and our ability to find so much about people from the objects they left behind. By undertaking the MSc in Conservation Practice I gained valuable experience, skills and knowledge which opened the door to the conservation sector.
I'm now a preventive conservator for Manchester Museum and the Whitworth Art Gallery, caring for objects in over 30 stores, 22 galleries and across two sites. I preserve everything from fossils, mummies, weapons, coins, statues, textiles and multi-million pound paintings by maintaining the best environment for their preservation for future generations.
Without completing my Master's I would not have been able to get to my dream job, working extremely closely with cultural and historically significant objects and preserving these for future generations, as a conservator.
My Master's in Conservation Practice provided me with connections within the museum world as well as outstanding knowledge, skills and experience.
The course wasn't for the faint hearted – you will need to be determined and willing to work hard to be successful as you will be taught four years work in the space of two! The MA doesn't tell you everything you'll ever need to know, instead it teaches you the resources you'll rely on for life as a conservator.
All the tutors have exceptional knowledge in their field, are incredible approachable and make you feel instantly welcome and part of the 'conservation family'.
Cardiff University is lucky to have such a diverse range of teaching staff, from a practising conservator, a very active member within the UK conservation organisations, an experienced conservator who has experience working on large scale heritage operations and someone who has key scientific knowledge.