Alex Humphreys (BMus 2006)
14 July 2016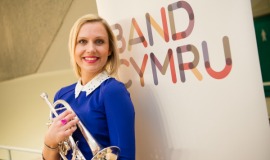 Alex Humphreys is a programme maker and presenter for S4C.
I chose Cardiff University because it had a good reputation, interesting Music modules and I was able to have a Welsh-speaking tutor, who was well-respected in the music world. I loved the Popular Culture modules with Dr Ken Gloag – his lectures sparked an interest that has stayed with me since.
I learnt a lot from passionate and knowledgeable tutors, and still continue to compose music as a hobby.
Since graduating, I've worked with the BBC National Orchestra of Wales, the BBC Wales Newsroom, BBC Learning, CBBC's Blue Peter and the BBC Proms. Working in the BBC Newsroom taught me a lot about journalism. That, combined with my experience on Blue Peter, gave me the skills needed to present Ffeil – a BBC-made Welsh-language news programme for young people on S4C.
Ffeil keeps me busy! I produce the programme, script, film interviews, edit the content and present the programme live every weekday. Every day is different: I get to work on so many different topics and working with children is always fun! I also feel like I can be myself in front of the camera, whereas off-camera I'm much more reserved. I love the responsibility of providing news for young viewers in an engaging way.
Recently I've been able to combine my love of presenting with my passion for music, co-presenting the Band Cymru series on S4C. I also joined the presenting team at 2016 National Urdd Eisteddfod's in Flintshire.
Presenting Band Cymru and the Urdd Eisteddfod have been particular highlights because Band Cymru is all about music and brass bands – I still love to play the cornet and piano.
When I started working as a researcher with Blue Peter, I didn't think anything could better that. But nothing tops the buzz of working in front of the camera.