Mark Wilson (BSc 2000)
14 July 2016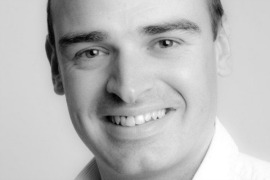 Mark Wilson is Head of Operational Excellence at Ocado.
I chose Cardiff Business School because the BSc International Transport and Logistics degree offered academic excellence and a year in industry, giving me the practical as well as theoretical experience I wanted.
The social and cultural elements of University life were equally important. I often think back to my days as one of the cricket team captains, in particular, the 1999 tour of Zimbabwe where we played against seven international players. We still get together to play an Old Boys game. That network of friends is a legacy of my time at Cardiff.
My degree helped me secure my first role after graduation – working on Marks and Spencer's graduate scheme in food logistics.
I went on to work on the warehouse management contract for Ocado before becoming an employee in 2007. I moved through different roles including six years as Operations Manager. I then took on a more open brief, leading various project teams including the design and build of the new site and developing and training a new site team. I now head the Operational Excellence Team.
Those early years at Ocado were exhilarating and exhausting. The sheer effort, commitment and time it took to get the company up and running was immense. It created a very tight knit community amongst the staff, where everyone's ideas could be heard, and in many cases, actioned. While we have grown considerably, that culture of openness, flexibility and sense of community remains.
I often look back and think that I've never overly planned or had a real job title. I've developed and adapted to circumstances and business need.
I think that's important for many careers but especially in logistics and operations, which isn't just about grades and academic achievements. They count, and are proof of capability, but you need something more, something extra. You need to be a people person, persuasive and decisive. It's about confidence, a certain attitude and strength of personality.