Examined Life – Simon Blake OBE (BA 1995)
14 July 2016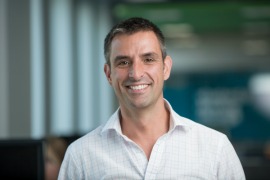 Simon Blake is Chief Executive of the National Union of Students, deputy chair for Stonewall UK, and a fellow of the Chartered Management Institute.
I was the first person in my family to go to University. The first day was certainly one of the most memorable. The drive from Cornwall to Cardiff seemed to go on forever, and as I waved my parents off from Plas Gwyn my eyes misted over when I realised I was at University. I remember sitting in my room scared, excited, proud, and hoping someone would knock on my door soon. That day was the start of a terrific three years.
I cannot describe the joy at getting a 2:1. There are so many memories, but my favourite has to be finding out my final result.
The day after graduation I went to work with horses at summer camp in Minnesota until the end of August. I then moved back to Cardiff and worked in a bar and temping – doing anything that paid. My first graduate job was a part time Outreach Worker with Cardiff AIDS Helpline.
I am Chief Executive of National Union of Students. NUS is led by elected student officers and I report to the President – the same operating model as Cardiff's students' union. NUS is a membership body – students' unions are members of NUS, and through our members we represent 7 million students across the UK.
There really isn't an average day in my job. In any week you will see me working on our strategy and ensuring it is being implemented, meeting with ministers, parliamentarians and civil servants, speaking at events, visiting students' unions and working with our members, planning with student officers, reporting to trustees, tweeting @simonablake, talking about ethical supply chains and Fairtrade for our purchasing consortium and our clothing company, Epona. There is of course all that goes with that – finances, people, risk management, crisis management, employee relations and culture.
In 2011, I was awarded an OBE for services to the voluntary sector and young people. I have written over 40 books with advice and guidance on sex and relationships education, and all aspects of children and young people's health and wellbeing. I am a Chartered Fellow of the Chartered Management Institute. I have a level 5 qualification in management, and a postgraduate diploma in social research from London South Bank University.
My experience at Cardiff University made me believe in myself. My Psychology degree gave me knowledge and skills so I could really understand neuroscience, and developmental and social psychology which really helped my work with children and young people. I also learnt to be inquisitive, and took interest in politics. I made some of the best friends at Cardiff some of whom have been with me throughout my life – through the good, the bad and the ugly.
My only regret is that I didn't come out as gay to myself or others sooner. I was scared until I got to my third year. Had I come out earlier I might, just might, have been a bit more focused on my studies in my final year and then maybe, just maybe, I could have got that first! So the advice would be: don't be scared, be yourself, people will like you as long as you like yourself.
Your educational experience will be most transformative if it goes well beyond the classroom. Make the most of your time at Cardiff University, the students' union and the city. Work hard, play harder, try new things, be true to yourself and enjoy the different people you will meet. If you can make it work financially, use your holidays to do something like Camp America or BUNAC. This is a golden opportunity. If you can take a year off and travel afterwards do. Make sure you are in the SU for the Six Nations Wales and England Match every year. And have water fights. Lots of them.
When I think of Cardiff University I feel warm inside. It was transformative, inspiring, quality, welcoming, and fun. I loved the combination of academic rigour, personalised support and challenge combined with an outstanding students' union. I am exceptionally proud to be a Cardiff University alumni.