Captain Mohab Abou-Elkawam (PhD 2015)
13 July 2016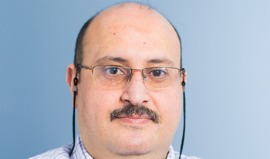 Captain Mohab Abou-Elkawam is a Senior Lecturer at Liverpool John Moores University.
Before coming to Cardiff I spent over 17 years working at sea, progressing from Third Mate to Master Mariner. I went on to teach at the Maritime Education and Training Institution at the Arab Academy for Science, Technology and Maritime Transport where I decided to focus on a more academic career.
I applied for the Nippon Foundation Scholarship to study my PhD at the Seafarers International Research Centre at Cardiff University. I was lucky enough to be accepted and I never regretted my decision to attend such a renowned university.
Cardiff University prepared me for a successful academic and professional life ahead. It was the venue for my intellectual development with its wonderful staff and students.
Having taught in Egypt, Sweden, Cardiff and Lowestoft in the last 15 years, I am now a Senior Lecturer and Module Leader in Liverpool John Moores University. I am passionate about teaching and enjoy teaching future seafarers and other university students studying maritime and commercial law. I was recently appointed as an accredited Consultant for the United Nation's International Maritime Organisation.
At Cardiff I learned to listen more, to conduct robust research and, perhaps most importantly, to accept and work with people from a variety of different cultures.
My research interests focus on the interaction between seafarers worldwide and marine environmental legislations and conventions. In the future, I would like to continue conducting capacity building in developing countries to help these states comply with international environmental regulations in the maritime domain.