Andy Aitchison (MSc 2001, PhD 2008)
1 July 2016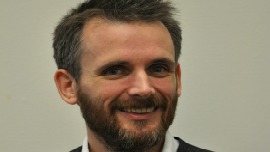 Andy Aitchison is the Director of Postgraduate Research at the University of Edinburgh
I first visited the School of Social Sciences when considering MSc options. The course was a good fit with my aims to develop my knowledge of criminology and criminal justice. The fact that Economic and Social Research Council funding was available helped secure my decision.
When I started my MSc I didn't have a vision of becoming an academic but by the end of my dissertation I had caught the research bug!
The School had a good reputation and research culture and after a couple of research jobs I returned to Cardiff University as a PhD student. Although neither of my supervisors had regional expertise on my study site (Bosnia and Herzegovina), their general research experience and specific criminological and policy knowledge were instrumental to providing supportive but critical supervision.
The consistent theme of my time at Cardiff was the amazingly supportive environment. Academics took a genuine interest in my progress throughout both degrees and were instrumental in providing advice and guidance on my research and on career options.
During my PhD, I started lecturing in Social Policy at the University of Edinburgh and now lecture at the University's School of Law. I published a book based on my thesis in 2011 as well as articles in Policing and Society and Criminology and Criminal Justice.
My ten years at Edinburgh have involved a range of roles. In 2009, I led the launch of an MSc programme in Global Crime, Justice and Security, reflecting the kind of interdisciplinary scholarship encouraged at Cardiff. I now serve as the Director of Postgraduate Research and supervise PhDs across the Schools of Law and of Social and Political Science. I would be happy if my students feel as well-supported as I did at Cardiff.
The academic career path can be frustrating at times but it comes with privileges. Recently I spent a sabbatical based at the University of Sarajevo to complete research work. The space to spend an extended period of time researching and to have the flexibility to go somewhere and work with another set of excellent colleagues is of great academic and personal value.
I am in a post that gives me a good degree of academic independence. I aim to continue working on issues of police reform, democracy and human rights in Bosnia, and to extend this to other states in the Balkans and to Turkey.