Victor Gekara (MSc 2005, PhD 2008)
13 April 2016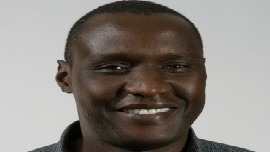 Victor Gekara is an Associate Professor at the RMIT University in Melbourne.
I researched universities both in the UK and the US before deciding where to undertake my MSc. My main focus was to find an internationally reputable University offering an equally reputable Master's course in maritime transportation and shipping.
In the final selection, a number of key considerations put Cardiff University above the others: the international ranking of the university and reputation of the Cardiff Business School; the size of the city (just right for a small town boy like me); the proximity to a beautiful and serene Welsh countryside and Cardiff's multicultural and cosmopolitan reputation.
Studying at Cardiff helped me greatly. It is the foundation upon which my success as an academic has been built.
Since graduating I have held two academic positions, the first was at Cardiff University itself where I was employed as a research assistant at the Seafarers International Research Centre (SIRC) and where I undertook my PhD. In 2009 I moved to RMIT University in Melbourne.
I am now Associate Professor in the School of Business IT and Logistics and enjoy teaching in the Supply Chain and Logistics area and researching industry skills formation and workforce development. My research has taken me to many places in the world and enabled me to create a wide network within industry and the academy.
The research training I gained at the School of Social Sciences and the quality of PHD supervision I received at SIRC have been invaluable.
The things that stood out for me were the quality of scholarship and the academic atmosphere; the fact that I interacted on a daily basis with the scholars whose books I referenced and whose theories I applied in my studies.
All the knowledge in international transportation and logistics that I gained from my year in the Business School form an important source for what I teach right now. My aspirations are to see my research and teaching work create real impact in society.