Simon Stephens (MSc 2013)
13 April 2016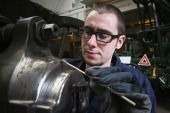 Simon Stephens is an Assistant Conservator of Engineering for National Museums Scotland's Museum of Flight.
I studied undergraduate biology and went on to work in a genetics laboratory before realising that the career path wasn't right for me. I always had a passion for museums, antiquities and cultural heritage but never thought to pursue a career in those areas until I saw the MSc in Conservation Practice in a Cardiff University prospectus. From that moment my goal was to become a conservator and work in the heritage sector.
The degree was taught over two years allowing me to convert my previous scientific background into a conservation skillset before building on them to Master's level.
I went from a complete novice to a fully qualified competent emerging professional who had completed an internship with one of the largest museums in the country.
I now work for National Museums Scotland's Museum of Flight as Assistant Conservator of Engineering. I am part of a small team delivering conservation to a wide variety of artefacts. I have a great interest in the conservation of large objects such as industrial machinery and vehicles so for me to get this job was a dream come true.
I would certainly not be in this position had I not pursued my goal and studied to become a conservator at Cardiff University. The brilliant methods of teaching conservation theory and practice and the experience I gained doing my summer internship at my chosen museum have given me the best start to a new career that I could have possibly ever imagined.
What makes the course truly special is the way taught theoretical principles are put into practice as you undertake conservation treatments on a wide variety of actual museum artefacts.
The teaching staff are all renowned conservators in their fields and the facilities are fantastic. From the department's state-of-the-art analytical equipment to the well-stocked libraries and postgraduate study centres provided by the University, all make studying at Cardiff a great experience.