Emily Lowthian (BSc 2015)
13 April 2016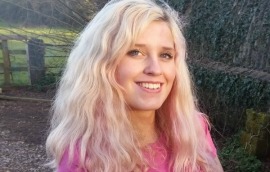 Emily Lowthian is a Research Officer for the Office for National Statistics
I came to Cardiff University after visiting on an open day and was impressed by the student accommodation, the union and the excellent facilities Cardiff offered. I was eager to get out of the countryside and Cardiff offered this opportunity
The lecturers at Cardiff University were second to none, and always helped me improve as a student.
After graduating with my BSc Social Science, I secured a job at the Office for National Statistics (ONS) on the Living cost and Food survey – a fantastic opportunity to use my degree and the skills I had developed. Within three months of being at the ONS, I wrote the overview chapter for the Family Spending report 2015 – a report that explains household expenditure using 2014 data.
The social science modules I studied have been a huge advantage to my career. I have an excellent foundation of social science concepts and a good knowledge of quantitative social research methods and statistics.
The modules sparked my interest in statistics and the ability they have to explain social concepts such as socioeconomic status and internet access. My dissertation invoked my interest in social research.
In the future I hope to continue developing my skill set at ONS in order to work on other surveys.