Ajay Vaidya (MA 2013)
13 April 2016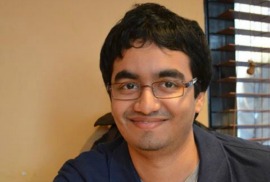 Ajaj Vaidya is a partner in an architecture and planning firm in India.
Since my Bachelors Degree in Architecture I have had a growing interest in the design and organisation of city spaces. I started looking into exploring the topic further and Cardiff University stood out because of the diversity of professors and their approach to urban design.
The time spent on the course was not just educational but also enjoyable. I developed great camaraderie with my fellow students as well as strong friendships with my professors.
I am now a partner at an architecture and planning firm in India. My role is to oversee projects and to promote the company in the Indian market. I also teach once a week at a local college imparting the skills I learned at Cardiff University to students here in India.
The skills I learned in Cardiff have helped me in qualitative planning of large scale projects down to the smallest detail.
Cardiff University exceeded my expectations in every way. The skills I acquired were not just about dealing with projects but also how to prepare oneself for any challenge and adapt to new situations. I am grateful to the faculty of the Urban Design course for making that chapter of my life memorable.