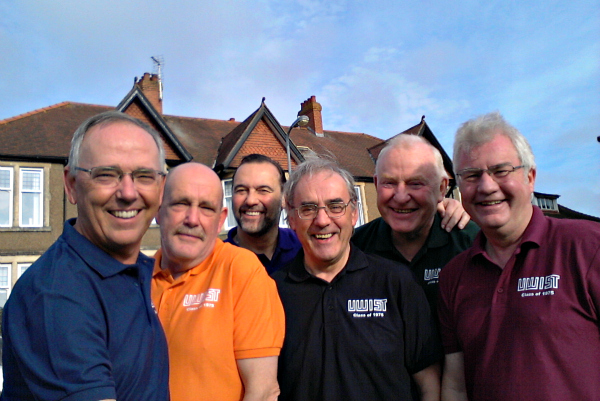 A group of alumni celebrated 40 years since their graduation with a reunion weekend in Cardiff last month.
Tim Spelling (BSc 1975) who instigated the event explains: "I think the famous Rod Stewart song 'You Wear it Well' could sum up the reunion of the UWIST Economics 2 football team '72-75. It was played relentlessly on the jukebox, as was 'Blockbuster' at Treharne Hall while we were there.
"Some of us had not met up for many years but we had not changed that much at all, really. A little wider and less of hair, but essentially the same as when we left in June 75!
"We stayed at the Hilton, adjacent to what was the Friary building, where many of our lectures were held, but like many of our old haunts it has been knocked down. Another place which has been knocked down is Treharne Hall – the scene of our dispute over the blue Penguin biscuit with the Civil Engineers and many other seismic events that seemed to take place in Rag weeks. Not one of us knew the whole story on events, but we pieced it all together to fill in the blanks.
We visited the Students' Union which had not changed much in fact and we celebrated with a game of table football and a pint or two (the pint cost in '72 was a measly 14p!).
We all had a great time over the weekend. Thanks to Rosalyn Kilcourse and her team for helping, we would highly recommend others thinking of a reunion to go and do it."
If you are interested in arranging a reunion, please let us know at alumni@cardiff.ac.uk and read our event toolkit.