Susmita Bhattacharya (MA 2007)
19 November 2015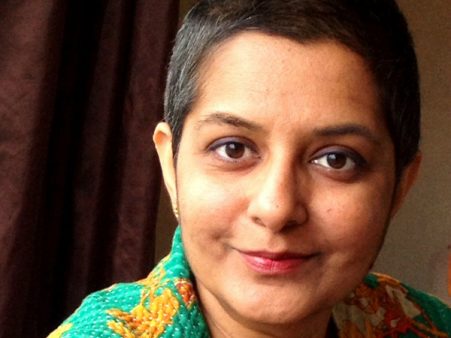 Cardiff, with its vibrant literary scene, was the perfect place for me to undertake my Masters in Creative Writing. I moved to Cardiff from Singapore, and initially took  a few courses at the Cardiff Centre For Lifelong Learning, where my tutor encouraged me to take my writing further.
I started writing a novel in 2006 and had my first child in the same year! I won a mentorship award from Literature Wales to work on my novel and continued to write short stories and poems – I had several published in the UK and internationally.
2014 was a roller-coaster year: I was diagnosed with breast cancer. Yet I also continued to enjoy success with a number of my short stories. Comfort Food was nominated for the Pushcart Prize, Good Golly Miss Molly was highly commended at the Frome Festival short story contest, and The summer of learning was featured on BBC Radio 4. I participated in a few literary festivals and some of my stories were anthologised.
My debut novel, The Normal State of Mind, was published in early 2015. I edited it through my chemotherapy. The novel's launch was special for me as it marked the end of my treatment – I was finally holding the published book in my hand. It has been a long and difficult process but I am very pleased to have had my novel published.
After cancer, my focus changed and I started exploring non-fiction and one of my essays was shortlisted for the Threshold Feature Writing competition. I now host creative writing workshops at The Mustard Tree, Plymouth's cancer support centre. To be able to give back for all the support I received has been invaluable for me.
Cardiff University has had a massive impact on me. I loved the library and spent many hours browsing books and resource materials. The lecturers were very informative and inspiring; this course helped me find my voice. It also helped me network and make lasting friendships.
The staff and students were extremely supportive. Being from a different culture and educational background, I sometimes found it difficult to connect with new ideas and forms of literature. There was lots of encouragement – my supervisors went out of their way to help me.
My tips for budding writers? Don't let rejections get you down, let it be the fuel that keeps you going. Take on criticism and feedback to improve your work. Don't be afraid of rewrites, because good writing is rewriting. Enjoy writing, it shouldn't become a task. Be respectful and kind to other writers, we are all in it together.