Jade Callaway (BSc 2011)
1 November 2015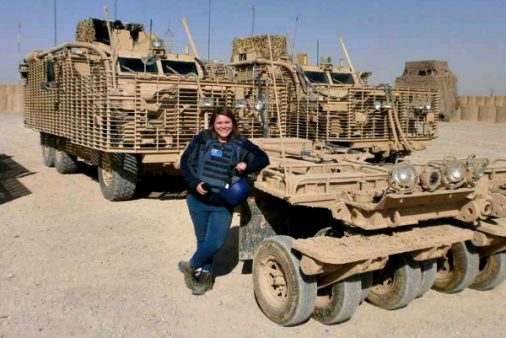 Jade is a broadcaster for British Forces Broadcasting Service radio
I graduated from Cardiff University in July 2011, but my BSc (Econ) Accounting and Management degree gave few clues to my future career as a broadcaster to the Forces.
I was involved with Xpress Radio, the student radio station, while I was studying. At the Student Radio Conference in April 2011 I met Nicky Ness, Controller of British Forces Broadcasting Service (BFBS) Radio.
I was offered work at BFBS's headquarters in Buckinghamshire assisting with administration and events. If I got the chance I'd jump in the studios to keep practicing in the hope of getting on air. The practice paid off, as in October 2012 I was detached to BFBS Cyprus ahead of my deployment to Afghanistan.
My four-month deployment in Afghanistan was both exhilarating and exhausting – it was the first time I had worked in a war zone.
My tour in Helmand Province coincided with Operation Herrick 19, which was headed up by 7th Armoured Brigade, The Desert Rats. As well as entertaining personnel in the four-hour Ops Breakfast Show, I also covered news from the brigade's units and events in theatre.
You didn't get a lot of 'alone time' out there and it was a real routine of eat, sleep, work for the whole tour. The worst weekend for me was missing a family wedding and of course Christmas day was tough.
Many of our listeners kept me going – it was great to get those phone calls in the morning – you realise that you're making a difference to someone's day.
Presenting the last live Christmas programming in Afghanistan was an honour. Now that I've been on tour myself, I feel I've got a better understanding of what our audience have to do out on ops – and you get a lot more respect from the military when you can say you've been there too!