Professor Chris Williams on John Viriamu Jones
29 October 2015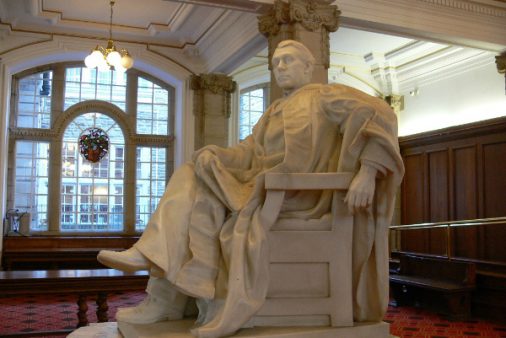 Professor Chris Williams examines the life of John Viriamu Jones, a man whose vision for higher education in Wales saw the establishment of the institution now known as Cardiff University.
The Third Marquess of Bute gave the land on which the University now stands to the municipal authorities. In 1900, the then Town Council (Cardiff became a city in 1905) was persuaded to grant the land to the University College of South Wales and Monmouthshire, its original terminology signalling that it served the southern half of the Principality.
The Council's persuader, termed by Liberal Prime Minister Sir William Harcourt 'the cleverest beggar he had ever met', was the College's inaugural Principal, John Viriamu Jones, after whom the 1912 laboratories were named, and who had spotted (as he put it in his speech to councillors) 'the exceptional opportunity' Cathays Park afforded 'for the realisation of a great architectural design'.
Viriamu Jones had taken office in 1883, aged 27. The son of a nonconformist minister, he had been christened in honour of the missionary John Williams, who had attempted to spread the Christian message on the island of Erromango in the south Pacific. The inhabitants, unable correctly to enunciate 'Williams', had modified it to 'Viriamu'. That had been only the first of their misdeeds, as in 1839 they killed and ate the missionary.
It is not recorded whether Viriamu Jones, a distinguished physicist coming to Cardiff from Swansea via Balliol College, Oxford and Firth College, Sheffield, feared a similar fate at the hands of the indigenous population of the lower reaches of the Taff. I suspect not. He went on to spend 18 years as Principal before dying of tuberculosis in Geneva aged 45.
First Vice-Chancellor of the University of Wales (in 1893), according to one biographer he exhibited 'invincible faith in the future of the college', was passionate about expansion and worked tirelessly to establish Cardiff on a sound financial footing. Today his marble statue – sculpted by local boy Sir William Goscombe John — occupies centre-place in Main Building's Viriamu Jones Gallery. Given Viriamu Jones's enthusiasm for mountaineering (he was a member of the Alpine Club and climbed in the Alps and Pyrenees) I wonder whether he would have approved of its recumbent pose?
Viriamu Jones's vision is as relevant now as in his own time.
He believed in equality of opportunity balanced by intellectual responsibility. His gweledigaeth – his vision – was of a democratic age in which citizens were 'the makers of progress'. And providing Cardiff's undergraduates with a university education that would match the standards set in Oxford, Cambridge, and London, was the objective he set himself and his original complement of 13 teaching staff.