The importance of public engagement (and how you can get involved!)
25 February 2020

Public engagement is an important part of being a PhD student, helping you to communicate your research to a diverse range of audiences. Here, Amy Smith from CITER (Cardiff Institute for Tissue Engineering and Repair) tells us how PhD students can get involved with the CITER portfolio of scientific interactive outreach activities and enthuse the next generation!
CITER is primarily a Cardiff University-based scientific research network comprising over 360 researchers and academic staff from two Colleges and ten Schools (Schools of Pharmacy and Pharmaceutical Sciences, Biosciences, Dentistry, Optometry and Vision Sciences, Medicine, Healthcare Sciences, Engineering, Chemistry, Mathematics and Earth and Ocean Sciences) working in the broad research areas of stem cell science, tissue engineering and repair and disease translation plus sub-disciplines.
A key part of the CITER remit is public engagement and we are regularly engaged in delivering our portfolio of activities in an increasing number of outreach events each year. These include Cardiff University events, public events, primary school workshops as well as Secondary School visits.
Here Lauren Evans, PhD student in the School of Medicine, shares her experience:
"In October 2019 I entered the third and final year of my Cardiff University-funded PhD at the School of Medicine focusing on lung cancer immunology and immunotherapy. Throughout my PhD, I have actively been involved in public engagement either through my School or through organisations such as CITER. In December 2017 I joined CITER and shortly after joined the CITER Soc Committee which is a student-led society. After a year of being involved in the Committee, I took on the role of Chair of CITER Soc in January 2019. Being a member of both CITER and CITER Soc enabled me to regularly engage in science outreach events throughout my time studying.
I was extremely fortunate to be invited to speak at the Seren Network National Student Conference in Powys on behalf of CITER. The conference allowed speakers to encourage and inspire promising students to study STEM-based subject at university. As part of the academic masterclass I provided an insight into my undergraduate and master's degrees, as well as my current PhD research and its link to CITER. Joining CITER gives you an incredible opportunity to get involved in STEM outreach and to disseminate your research.
Our trip to Powys was just one of many outreach events attended by members of CITER Soc. Members visited Port Talbot Sixth Form College to talk to students and showcase interactive activities which are specifically developed for A Level students. We demonstrated ocular diseases, suturing, and Virtual Rehabilitation Movement Games and talked about life in academia and at Cardiff University. Our aim was to engage A Level students from the Seren Network, which supports the most academically able students in pursuing their aspirational choices for higher education.
Last year I also attended Super Science Saturday at the Cardiff Museum, an annual science outreach event, where we demonstrated our famous maggot races to parents and children of all ages. As you can imagine, this went down a treat!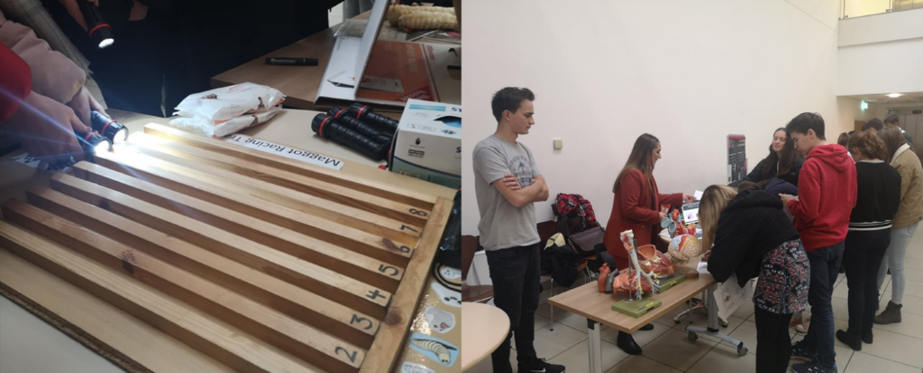 Members of CITER Soc were also pleased to be a part of the 25th Anniversary of the University's annual 'Science in Health LIVE' event, for which we had an amazing turnout. This event was part of a series of public health engagements, covering live science experiments, public lectures, laboratory work experience, and the Life Sciences Challenge. Working alongside academics from Oxford, Cambridge, Bristol, and of course Cardiff was a great experience. The live science experiments attracted almost 1,000 students, many of whom were registered on to the 'Step Up to University' scheme to assist access to higher education.
Each year CITER Soc organises a scientific workshop within Cardiff University to engage A Level students in science and hopefully inspire them to look at science (and the wider STEM community) as a possible career path. In December 2019 the theme was 'Drug Delivery in Science and Health' and this involved organising a series of talks including a keynote speaker and guest speakers whilst ensuring it is suitable for A Level students and relevant to the current Curriculum. Students commented that the "talks were informative, accessible, and interesting…the interactive workshops were fun and interesting.".
Being a CITER Soc member also allows you to discuss your research amongst your peers and has always been a society that I have thoroughly enjoyed being part of. I have been so proud to see CITER Soc grow whilst I have been both a committee member, and Chair, and look forward to seeing how the society grows further under the new committee this year. If anyone would like to get involved in CITER, or to join CITER Soc, I cannot recommend it enough – the opportunity to bring science to young people and the wider community is extremely rewarding and it looks great on your CV! If you are interested in becoming a CITER member and volunteering, please apply via the CITER website or contact Amy Smith at citer@cardiff.ac.uk for more details. It is a preference for all CITER volunteers to be a STEM Ambassador, outreach training is provided, you will never be asked to volunteer alone and will always be placed with an experienced member.