An alumni update from Cardiff Business School – Professor Rachel Ashworth
25 November 2022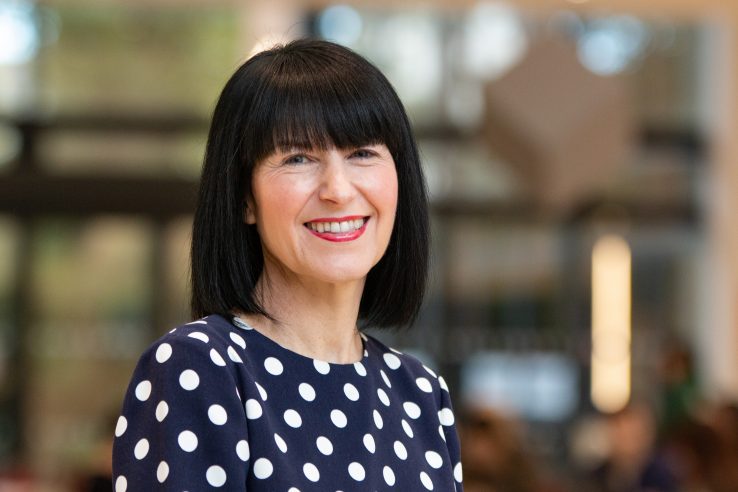 Professor Rachel Ashworth, Dean of Cardiff Business School, offers an update on school activities and community achievements.
Hello all and greetings from Cardiff. As we approach the end of 2022, and wrap-up the autumn term, I wanted to give you an update on news and activities from Cardiff Business School. And to share upcoming events which you might want to come along to.
When I was last in touch, we were still very much in the midst of COVID-19, but I am relieved to report that our patterns of work and study have now settled. The corridors and lecture theatres are bustling again with new and returning students, from the UK and around the world. It's so satisfying to hear the buzz which has returned to our buildings and campus.
I'm also delighted to say that thanks to our fantastic staff and students, the school has continued to achieve success, despite the challenges of COVID. Here are some of those highlights.
A responsible global leader
An exciting development in the past 12 months – and one we're very proud of – was receiving accreditation from the Association of MBAs (AMBA). This represents the highest standard of achievement in postgraduate business education and came after a rigorous assessment in 2021. It also demonstrates, and endorses, our commitment to enhancing the student experience and delivering outstanding and distinctive MBA programmes that reflect our public value purpose.
Our MBA portfolio currently includes the flagship Cardiff MBA and the MBA with Artificial Intelligence programme, an exciting partnership with the School of Computer Science and Informatics. We're also in the process of redesigning our part-time MBA programme and hope to share more about that in future updates.
Public value research in focus
This year, we also received the results of the 2021 Research Excellence Framework (REF), an exercise to assess the quality of research in higher education institutions (HEIs) across the UK. We were delighted that the outcomes showed us to be one of only 2 UK business schools to have maintained the highest possible score for research environment and placed us 2nd out of 108 UK business schools for research power.
We were commended for our public value purpose having prioritised research that is focused on global challenges, such as decent work, fair and sustainable economies, and good governance. Part of the evaluation process considers the strategy, resources and infrastructure in place to support research and enable impact. Again, the results show that the collegial, inclusive and participative culture within the school delivers engaged, thoughtful and impactful research, benefiting business and wider society.
Working to support our alumni

Join our LinkedIn community
We've recently established a new LinkedIn page for updates about our activities, insights into our research, and information about our events. Make sure to follow and stay in touch.
Take up a free Executive Education course
You can take advantage of our Executive Education provision. The team are offering a FREE emotional intelligence workshop led by a new academic to join our community, Artyom Kliuchnikov from Ukraine. Contact Parry-JonesJ1@cardiff.ac.uk for more information and to register for the online event which will take place on 6 December. If there are other events and courses you would find useful, please do let us know.
Make the most of our hybrid events
The pandemic has also helped us to be more innovative. For example, many of our events are now organised on a hybrid basis, so that as many people and stakeholders as possible can participate in our talks and seminars. This ensures a diverse mix – demographically and geographically – of attendees, enriching the discussions and audience interactions.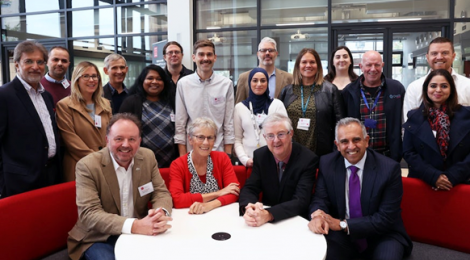 Recently, we welcomed the Rt. Hon Mark Drakeford (MS), First Minister for Wales, to the school for a conference that highlighted the challenges for refugees in finding employment in Wales and included presentations from responsible employers such as Tiny Rebel and IKEA.
We'd welcome your attendance at our Breakfast Briefing series, which platforms a range of diverse speakers from business, academia and government. This month, Football Association of Wales (FAW) CEO, Noel Mooney, was in conversation with Professor Laura McAllister, former Wales Women's Captain and an academic in the university's School of Law and Politics, ahead of the opening ceremony of the World Cup in Qatar.
Noel and Laura spoke passionately about the future of Cymru (Wales) football, the FAW and the impact of the upcoming championships. You can watch the live recording to catch up on the full discussion. And make sure to keep an eye on our school events page, where future Breakfast Briefings will be listed. The last two Briefings of 2022 are already scheduled:
Our alumni changemakers

And last but not least, we offer our congratulations to all Cardiff Business School alumni who featured in the university's inaugural 30(ish) Awards. Liz Tan (BSc 2004), Jon Szehofner (BSc Econ 2007), Oli Cook (BSc Econ 2007), Hosanna Hali (BSc 2016, MSc 2018) and George Bellwood (BSc 2019) were recognised for achievements across various categories, ranging from entrepreneurship and environment activism to equity activism and innovation.
It's great to see so many alumni employing the knowledge gained during their studies, alongside their professional skills and experiences, in diverse fields and for the betterment of business practice and society. All of them embody our public value principles and a belief in positive change. It's hugely rewarding to see and hear about their achievements. Well done and thank you to our entire Cardiff Business School alumni community for making a difference and impacting communities in Wales, the UK and across the world.
I think that's enough news for now! I will be in touch with more updates soon. We're also hoping to get on the road and meet up with as many of you as possible over the coming year. In the meantime, I wish you all well. Don't forget to keep in touch and remember there will always be a warm welcome for you here in Cardiff – at your business school.
Professor Rachel Ashworth
Dean of Cardiff Business School