Tooting your own horn – Bossing It
29 July 2022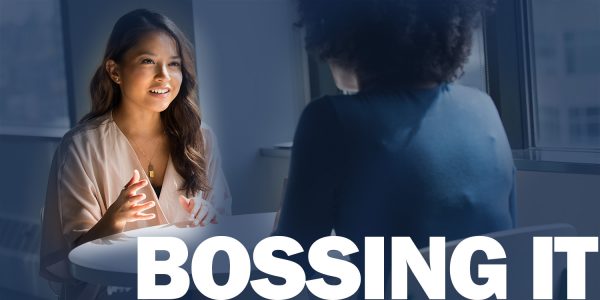 Self-promotion is a challenge a lot of people struggle with, especially when starting out in their careers, although it can be such an empowering practice when done well. We've spoken to some of our successful graduates who have provided their top tips on why it's a positive thing to 'Toot your own horn'!
Cheryl Luzet (BA 1999)
Cheryl is the CEO and founder of award-winning digital marketing agency Wagada Digital. Following a degree in languages at Cardiff University and a stint in the travel industry, she returned to university in London to do a master's in Electronic Publishing. In 2011 Cheryl set up her own business, taking her experience as an in-house marketer into account when building the values of her agency, ensuring that Wagada Digital constantly meets the needs of its clients.
Get the recognition you deserve
Talking about your achievements doesn't make you arrogant, it just means that you receive the recognition that you deserve. Awards are a great way of showcasing your skills and expertise, in a way that feels much more legitimate, as someone else has recognised you. Industry awards highlight your skills and potential clients and employers are often attracted to those who have won relevant industry awards. It becomes a talking point, and fantastic PR for yourself and your company. Awards get you noticed and allow you to shout about being 'award-winning', giving you extra kudos for your achievements. Spend time over your entry and don't leave it to the last minute, ensuring that you have evidenced your accomplishments.
Share and celebrate success
Being heard, and being visible, are crucial to get your achievements recognised in the workplace. Don't be that person who works tirelessly and doesn't get rewarded. Make sure that you remind yourself on a daily basis what you have achieved and share your successes. If you are worried about sounding like you are bragging, present it as interesting insight that you thought she or he would want to know. Be that person who also recognises other people's successes, and they will support you in return, as your cheerleader. This way you'll come across as dynamic and supportive of the overall business goals, not as someone who shows off.
Mo is the CEO and Co-Founder of the award-winning Cardiff based start-up Route Konnect (the Google Analytics of physical spaces) which uses sensors and analytics tools to provide real-time insights into the movement within cities. Mo and his fellow alumni co-founders Daniel Harborne (BSc 2019), Matteo De Rosa (BSc 2018), recently received £780k in pre-seed investment and have just been awarded Innovative StartUp of the Year in The Wales StartUp Awards 2022.
Apply, apply, apply
Always apply. It's always worth putting yourself out there because you never know when you might win recognition for the effort you put in throughout your career. Despite not winning more than 90% of the time, the connections made, and the relationships built always seemed to unlock an obscure path that I would not have obtained had I not just gone for it.
Talking of applying…why not take the jump and nominate yourself for a 30(ish) Award today.
Don't fear rejection
If you think you're not worth it, apply anyway and see. The worst that can happen is they say "no", and the best that can happen with that "no" is that you get free feedback on how to improve next time. It's allowed me to go from being a semi-finalist at The Telegraph STEM Awards in 2016, to a finalist in 2017, and providing the spark to create my own tech startup. From there becoming a finalist a couple of times at the Wales Startup Awards, to eventually raising $1m in 2022 and becoming actual winners in 2022 for being the most innovative Welsh Startup of the year!
Joanna Deadman (BSc 2013) 
Jo studied Business Management with Marketing at Cardiff University which set her on a pathway to the world of marketing at companies including ITV and Yahoo where she led on multiple change campaigns and worked on specific TV launches including Love Island and Celebrity Juice. She has since founded The Unstuck Club, a life-coaching service focussing on 'getting yourself unstuck from the rut you're in, to living your best life, whatever that looks like to you.'
Don't be afraid to voice your achievements to senior members of your team
You may feel awkward letting people know when you've worked hard at something and it's gone well. It might feel like you're showing off or looking for praise, but if you don't tell them, there's a chance they won't know. Often the most senior people in our workplace can be too busy to notice our achievements unless they're handed to them on a plate, so we need to get used to handing them that plate! Sending a brief summary of a work project with the highlights when you've finished it is a great way to do this without feeling like you're attention-seeking or adding to their busy schedules.
The most important person you need to promote yourself to, is you
My biggest tip is to promote yourself to yourself! Often we're our biggest critics, but whatever happens, make sure you're always promoting yourself internally. How we talk to ourselves directly impacts our ability to go on and achieve our goals. Our internal dialogue can often be quite self-deprecating and we're quick to have negative self-talk when something seems to go wrong. We rarely take time to recognise our wins and achievements and congratulate ourselves when things go right. Make sure you're taking the time to celebrate your achievements and congratulate your own successes.
Martyn Edwards (BA 2002, MSc 2005)
Martyn studied his undergraduate degree in Communications at Cardiff University, before returning a few years later to complete his MSc in Strategic Marketing. Martyn has a strong background of Marketing in theHigher Education sector, taking on roles at multiple institutions, as well as sitting on an array of prestigious committees throughout his career. Today Martyn works as the Director of Marketing & Advancement at Loughborough University.
Other people are human beings too, just talk to them 
When I was first studying marketing, one of the many acronyms I was taught was ECHO – Every Contact Has Opportunity.  At the time it seemed a bit cheesy but as I've navigated my way through my career it's something that has become a crucial part of my working life. People often think building a professional network or schmoozing can be painful, that it's awkward and can seem artificial to put yourself out there. The key thing to remember is that we are all human beings; we all have challenges to overcome and things we want to achieve, and we often can't do this by ourselves. So, take the plunge and find out what other people's goals and motivations are, they may be similar to your own, or at the very least you can put them in touch with another contact who might be able to help. You can add value for others through making connections for them via your network.
Feeling like doing a little self-promotion yourself? The 30(ish) Awards celebrates the change-makers, innovators, and rule-breakers in the Cardiff University alumni community. We will be recognising a list of 30(ish) finalists who have made a positive contribution in their community, and all before they hit 30. Well, 30(ish). Get nominating yourself (or someone else) today!
The Cardiff University community are a helpful bunch, here to help you get ahead in your chosen career. You can browse through their advice and top tips on a wide range of business topics in our 'Bossing It' series.