From surgeon to tech CEO: why I pivoted my career to help save the NHS – For Alumni, By Alumni
20 April 2022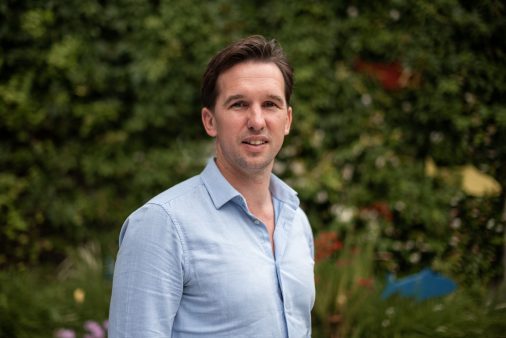 Dr Owain Rhys Hughes (MBBCh 2005) is an ENT surgeon and successful healthtech entrepreneur, whose initiative Cinapsis is helping tackle the current NHS backlog crisis and reduce burnout across the healthcare workforce. He shares his experience of pivoting a career, the importance of collaboration and how making real change is possible.
As an excited student arriving at Cardiff to study Medicine in 1999, I thought that pursuing a career as a doctor would be my best opportunity to make a positive impact in the NHS. However, my mind was soon to be changed!
Fast forward a few years and, following graduation, I crossed the Atlantic to study at Harvard University's Medical School with a placement at the world-famous Massachusetts Eye and Ear Hospital. This was a truly incredible experience, and I learnt a great deal from some of the world's most talented medics. I later returned home, to work as an ENT surgeon in the NHS, and it was while working as a registrar at The Royal Marsden NHS Foundation Trust, and later at the Great Ormond Street, and University College London, NHS Foundation Trusts, that my career path took an unexpected turn.
On the hospital floor, I was struck by the glaring problems – from inefficiencies to delays – that were a direct result of outdated, siloed clinical communication systems. Doctors couldn't share knowledge or collaborate on patient treatment. Paper-based referrals and headache-inducing email chains were getting in the way of care delivery, and patients were falling through the cracks. I knew that the NHS needed a better alternative, so, with advice and support from colleagues, I set about creating one.
I founded Cinapsis with the goal of providing clinicians with secure and custom-built digital tools to streamline referrals and improve patient outcomes. Our SmartReferrals platform connects clinicians with specialists so they can share advice and expertise: this helps GPs, paramedics and optometrists to make quicker, more informed and accurate decisions about care delivery.
It's been incredibly rewarding to see this technology helping to streamline the workload of clinicians, reduce unnecessary referrals and accelerate positive outcomes for patients. In Norfolk and Waveney, our dermatology project is helping cut wait times for specialist advice from 50 weeks to just 48 hours, and a similar project in Cheshire and Merseyside is saving an estimated £1m per year for the NHS.
The impact of the pandemic has left the NHS more in need of innovative solutions than ever before, and I believe that it's clinicians who are often best placed to design these solutions. I hope that, by sharing my story, I can inspire other medics to consider what they can contribute to the world of healthtech too. Here are my top tips for anyone looking to build their own solution to a problem they believe needs solving:
Don't be afraid to challenge the status quo
If you're certain that something needs to change, you're probably not the only one. But crucially, you have the power to make a difference. Challenge the status quo by presenting a new way of doing things. Talk to those around you and be confident in driving forward change.
Always explore the nuances
Observing nuance has been essential to developing Cinapsis. We had to consider the finer details – such as how different clinicians worked, which systems they were already using and how a new digital platform would fit into these – to ensure our solution was effectively tailored to help them. Always delve deeper into the problem or hurdle you're addressing. Keep your eyes open for the nuance as this will help you identify the true underlying causes of problems and ultimately help you tackle them more effectively.
Be open to taking a different direction
While training to be a doctor I had no idea that I would one day be lucky enough to also innovate within the health tech sector. In fact, some people even suggested that it was a 'waste' of medical training to step back from frontline medical practice! But having been through the experience myself, I couldn't be prouder of what I've achieved with Cinapsis. So be open to taking new paths, because you never know where they might lead you.
There's no doubt that my time at Cardiff University was instrumental in shaping the doctor and entrepreneur I am today. I wouldn't be where I am without the education and support I received as a Cardiff undergraduate. My career may have taken some unexpected turns, but I've learned and experienced more than I could have ever anticipated. I'm excited to see what the next generation of Cardiff alumni achieves!
Tell us what matters to you 
We've introduced 'For Alumni, By Alumni', because who knows our alumni community better than…you guessed it, you! We'd love to hear from you with ideas for articles or online events that you're interested in, you can give insight on, or maybe you ARE the story! Check out our full line-up of articles and watch back our live events playlist.