Polycystic ovary syndrome and the importance of endocrine research
16 February 2022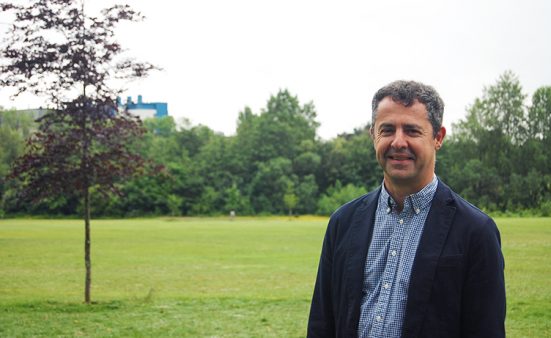 Professor Aled Rees (MBBCh 1993, PhD 2002) has dedicated his life to endocrinology – one of the lesser-known areas of research that impacts us all. Here he explains what endocrinology is, why it's important, and how his research looks at the long-term health conditions associated with polycystic ovary syndrome.
Professor Aled Rees grew up in Pembrokeshire and travelled a little further afield to Cardiff, to study medicine. He was drawn to the University thanks to the strong international reputation of its work into pituitary disease/endocrinology. Since completing his studies, he has worked as both a clinician and a researcher in Cardiff, splitting his work between the NHS and the University.
Explaining endocrinology
Many people don't know what endocrinology is, and Aled has an excellent explanation for when he (inevitably) gets asked this question.
"Imagine that your hormones are an orchestra – the thyroid hormones, steroid hormones, testosterone and so on. The pituitary gland is the size of pea at the base of the brain behind the nose. This is the conductor in charge of the orchestra. The conductor gets feedback from the orchestra/hormones and they keep each other in balance."
Hormones control many aspects of regulation in the body, like your metabolism, weight, blood pressure, testosterone production etc. A deficiency or excess of hormones will impact the way these things work. Diabetes, hypothyroidism (under active thyroid) and polycystic ovary syndrome (PCOS) are better-known examples of endocrine disorders. But there's a wide spectrum of endocrine abnormalities and conditions.
PCOS and long-term health conditions
Much of Aled's work focuses on neuroendocrinology, how endocrine disorders effect the brain. This includes studying polycystic ovary syndrome (PCOS), which is the most common hormonal disorder in young women, effecting 5-10% of the premenopausal population. It's a condition characterised by reduced response to insulin, as well as hyperandrogenism and abnormal ovarian morphology.
Part of Aled's research involves discovering if this translates to other health risks, such as diabetes and cardiovascular disease. This involves analysing large amounts of data, looking at things like patient demographics, recorded diagnosis, prescriptions etc. It also involves brain imaging, which is one of the strengths in research at Cardiff University because of the Cardiff University Brain Research Imaging Centre (CUBRIC).
"We've been able to demonstrate the need for more awareness around increased long-term risk of diabetes, cardiovascular disease and even strokes. It's imperative that maintenance of healthy weight and prevention of these problems is brought into treatment at an early stage."
In terms of treatment, Aled and his team conducted a gold-standard trial: a randomised, double blind, placebo-controlled crossover trial of the effects of a drug called metformin on vascular and metabolic risk in young women with PCOS. So far, the findings suggest that this drug may hold promise in reducing the risk of cardiovascular and metabolic disease, but more research is needed.
Mental health and neurodevelopmental outcomes
"PCOS is an under recognised and underappreciated condition, which has a very significant impact on the lives of the women effected."
Skin manifestations such as hair loss and acne can be very emotionally distressing, as well as concerns about fertility and other issues, and this might contribute to increased rates of a diagnosis of depression and anxiety in those with PCOS.
Other studies have been conducted to observe neurodevelopmental outcomes, particularly autism and ADHD, for children born to mothers with PCOS. Early findings indicate that the relative risk increases with PCOS pregnancies, but the actual risk (the number of people affected) is very low in the general population. The relative increase could be a result of androgen, or testosterone levels, which tend to be higher in PCOS pregnancies, or it could be shared familial factors.
Aled presents this research in our Research Showcase event, going into more detail and stressing the need "for further research to understand the mechanisms involved in order to optimise interventions and reduce cardiovascular, metabolic and psychiatric morbidity linked to PCOS."
Plans for the future
Aled is animated about what the future of neuroendocrinology holds. "It's really exciting to be able to work with colleagues from other disciplines who come from all kinds of backgrounds. It's going to be a really exciting time for us because of the unprecedented resource and opportunity in Cardiff."
"We have plans to redesign services in Wales to support a more formal commissioning process for how we deliver our work and concentrate on the rarer conditions that we deal with. I'd like to see our data inform policy, as that's a really impactful thing we can do to understand risk and concentrate resource."
Generosity of others
"I can't express my thanks enough for the wonderful donations that have been given to this research, especially a recent gift left in a Will. It's a real honour to receive and it's a fantastic opportunity to do some work that will be impactful and of immediate relevance for patients.
Donations are critical to research, even if it only leads to small changes, because this ultimately leads to bigger change."
Find out more about how you can support research like Aled's.