Recipes for Success: Low-fat baked mostaccioli
7 January 2022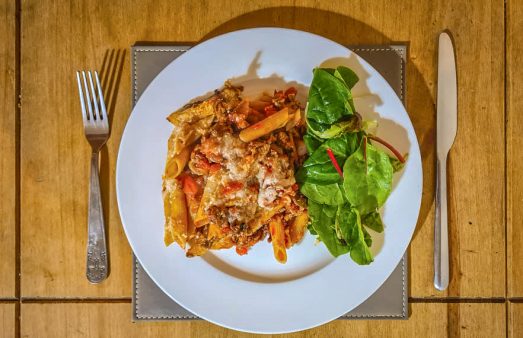 Recipes for Success is a series of recipes from experts in the food and drink industry. Originally created as a recipe book for new students, alumni chefs, food bloggers and restauranteurs generously share their delicious, easy-to-make recipes. Find out more about our kitchen savvy Cardiff alumni while making something yummy! 
Meet the chef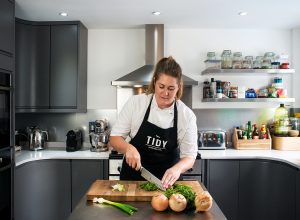 Laura Graham (BA 2008) worked as a head chef on private superyachts and is now the director and head chef at The Tidy Kitchen, a catering company that uses locally sourced food to make nutritional meals. Laura studied English Literature at Cardiff and lived on pasta as a student.
"A constant in our evening meal range was always pasta. Versatile and inexpensive, it used to form the base of many a meal held in Talybont North. Great for sharing, you can use a bag of fresh green salad leaves or add some garlic bread on the side to feed a group before an evening out or to refuel post sport event."
Let's get cooking…
Shopping list  
Serves 4
225g of penne pasta
(wholemeal will fill you up for longer)
2 tablespoons of olive oil
1 white onion, finely chopped
2 cloves of garlic crushed
500g of beef mince (500g of Quorn mince for vegetarians)
2 tins of chopped tomatoes
1 tablespoon of tomato puree
1 teaspoon of chilli flakes
1 teaspoon of salt
Pepper
Grated parmesan/cheddar
What you'll need
Saucepan
Colander or sieve
Frying pan
Baking dish
Method
Step 1
Preheat the oven to 200°C. Cook pasta in salted water until soft (check pack details to make sure). Drain and leave to cool.
Step 2
In a hot frying pan, brown mince (or Quorn) until cooked through, pop in a bowl to one side, draining and discarding any fat from the mince.
Step 3
In the same frying pan, add onions over a low heat for 10 minutes until soft. Add garlic and cook until fragrant. Add tomato puree and cook for 30 seconds.
Step 4
Add chopped tomatoes, chilli flakes and browned meat and cook over a higher heat for 15 minutes to remove acidity from the tomatoes and let the sauce thicken. Season with salt and pepper and (if using) stir in kale, peas and spinach.
Step 5
Add this sauce to the cooked pasta and then spread a layer on the bottom of the baking dish. Sprinkle with parmesan or cheddar.
Step 6
Bake in preheated oven until golden brown for about 15 minutes.
Optional
Chuck in a handful of frozen peas, spinach, or kale to make this a super healthy dish. For vegan options, use tofu instead of beef and vegan cheeses.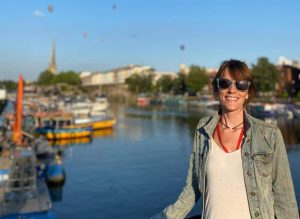 Our alumni tester, Kate Morgan (BA 2017, MA 2020), says…
"I'm not much of a cook, and I'm training for the Cardiff Half Marathon (go #TeamCardiff!) so I need easy and filling meals. This was perfect. If there are leftovers, it's delicious reheated the next day."