Lockdown runner takes on first half marathon
29 November 2021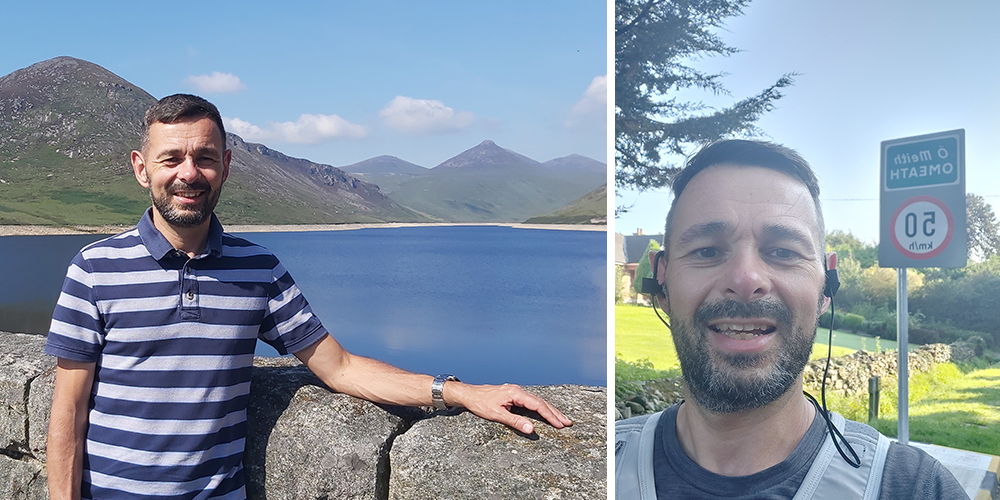 Mark Woolner (BScEcon 1995) took up running during the first UK lockdown and is returning to Cardiff nearly 30 years after graduating, to take on Cardiff Half Marathon in 2022. He shares his motivation, inspiration and what he's looking forward to on race day.  
You only started running last year. What got your started and how is training going?  
At 47, I looked in the mirror at the start of the first lockdown and saw a middle-aged man with a middle-aged spread looking out at me. I decided I didn't want, or have to be, that person. So I started exercising, with little real expectation that I would stick at it, but the results were quickly visible and it inspired me to keep going.  
To start with, running was a bit of an afterthought to my abs exercises, just to do a bit of cardio. For the first few months I only ran 2-3km at a time, but it started to feel easier, and a runner friend encouraged me to push myself – on consecutive weekends I progressed to 5k, 10k, 15k and then 20k – the sense of achievement was amazing and I haven't looked back! 
What inspired you to run the Cardiff Half Marathon?  
I've always been reluctant to run an organised event, but a mate of mine whose daughter is currently studying at Cardiff said he had entered the run and persuaded me to join him! The fact that the run is in Cardiff, one of my favourite cities in the world, and the place I grew up in as a uni student in the 1990s, changed my mind.  
Why did you choose to run for Cardiff University's cancer research? 
My mum has secondary bowel cancer and I've seen first-hand on two occasions in the past five years just what a devastating effect this terrible disease, and its treatment, can have on a person and those around them. I have confidence that the work Cardiff University is doing will have a positive impact on finally being able to conquer cancer. 
Any training advice you can share – especially as race day gets closer? 
It sounds naff, but believe in yourself, trust your body and push yourself just enough to go that extra mile (literally!)  
How have you found fundraising?  
I set myself a target of £500 and had an initial spurt on Facebook, but I haven't pushed fundraising too much yet. I'll start promoting more in the new year as race day gets closer. I know I can rely on family and close friends, but a well-timed social media entry has the potential to elicit responses from a few blasts from the past! 
What motivates you during long runs?  
Personal achievement, genuinely enjoying being outdoors, switching off from normal life and knowing I'm doing something worthwhile for both my physical and mental health. I used to hate hearing all about positive endorphins and all that from seasoned runners, but you know what, they were absolutely right! 
How have your friends and family found your marathon training? 
They are all very supportive, if a little surprised at how I have stuck at it and grown to really enjoy it – so much so that it's now a significant part of my life. They recognise the positive impact that running has had on me. Even though occasionally, I am sure some of them roll their eyes at my self-congratulatory posts on social media when I've reached a milestone or achieved a PB!  
What are you most looking forward to about race day? 
Being part of an organised event for the first time, enjoying the atmosphere and the support of the crowds and seeing how hard I can push myself. 
I also really cannot wait to be back in Cardiff! I have such fond memories of my time there and don't get to visit that often. It'll be amazing to run around some of my old haunts, as well as some new ones – I can't believe I haven't crossed the barrage yet! 
What advice do you have for anyone thinking of signing up to a fundraising challenge?  
Just do it – it's good for you personally and for the Uni – you'll be running for an amazing cause and supporting continuing academic endeavour. 
You can support Mark's fundraising towards Cardiff University's cancer research by donating to his JustGiving page.  
Run the Cardiff Half Marathon for #TeamCardiff
Register your interest with us and we will be in touch with further information on how to complete the registration process and claim your free #TeamCardiff running place.