Bake Off's Beca on Cardiff, careers, and cooking
26 October 2020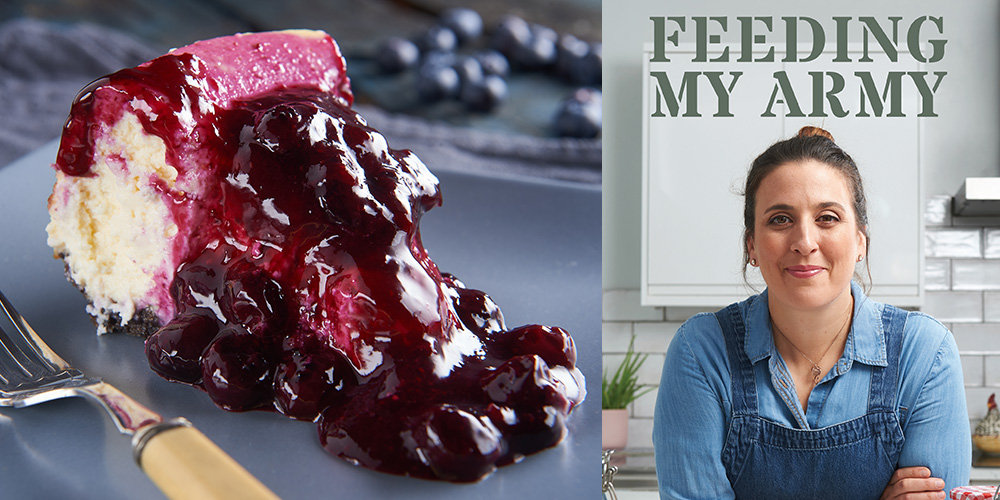 Beca Lyne-Pirkis (BMus 2004) is a writer, broadcaster and Great British Bake-Off finalist whose career took off in a rather unexpected way. Beca describes her experience on the popular TV series and explains how she applied her music degree skills to other areas of her life. She also divulges some of her wild and wonderful memories as a student at Cardiff University.
I get asked often, am I a baker or am I a cook? And I always say I'm a bit of both.
Food is a constant, in the sense that it's there when you're feeling low, it's there for celebrations, and it's there when you're poorly. The act of cooking is very therapeutic and it's good 'me' time. You can really get into your own head space.
But cooking wasn't always such a predominant part of my life…
I came to Cardiff in 2001 after taking a gap year and I really wanted to study music. I was nervous because I didn't enjoy university my first time around.
I was put into a flat, house 4 Talybont South, the first floor on the left. I remember it so clearly! In my lovely little flat we had all sorts of different people coming in. The students in the flat across the way were awesome and we bonded really well and that made me feel happy and settled. I even lived with some of them in London after we left university. I have so many memories of just being with my friends and having the best time.
I particularly remember running for IMG Chair during my time at Cardiff. The role involved organising football and netball matches for the societies. My catchy slogan was 'Beca's got balls'. In order to catch people's eye at the polling station, my friends and I decided it would be funny if I posed topless holding a netball and a football in front of my chest.
We went to one of the boys' houses to steal their rugby ball and I posed so you couldn't see anything. I had a cheeky smile on my face, and everyone thought it was hilarious. I've had people from Cardiff University come up to me years later and say, 'I remember your poster!'
It's a strategy that worked, and I loved being the IMG Chair. I got to write a weekly column in the University newspaper about the games that had been on. It was brilliant. There were so many opportunities at Cardiff.
My favourite lecturer was Richard Elvin Jones, or Reg as we used to call him. He's a family friend so I knew him before, but he was also my personal tutor. He played the organ at my wedding. It was beautiful and so lovely having him as part of the celebration.
My daughters have started to learn music now, so my degree has come in handy with helping them with theory. I also sing with the Military Wives Choir in Cardiff and I help with the rehearsals and practices. It's a nice non-pressured use of my skills.
I didn't really know what I wanted to do with my degree, but I certainly enjoyed the university experience. Unless you know clearly what you want to do in life, you need to look at different avenues to utilise your skills. I'm an arty, creative person and that translates to the cooking as well. For me, it's about using creativity in different mediums – which brings me to Bake Off.
I wouldn't be here without Bake Off. It gave me a second career that I love and a career I've wanted to do since I was a little girl. But it also took over our lives. When we were filming, we were in a Bake-Off bubble. You don't think about anything else and you're not allowed to talk about it. It was bonkers!
I went on the show not expecting anything from it, and just a couple of weeks into it I started getting offers to teach at a cooking school and I ended up with my own TV series on S4C. Since then, I've done some TV specials and worked with Borough Market as one of their chefs. I published my first book and now I'm on to my second.
Bake Off is still there but I feel like I've built up my own reputation now. Baking in a tent on television has led me to here. I'm even going through another degree to be a dietician in order to expand on the work that I love. Long may this continue!
In cooking, as in life, don't be afraid of failure. If things go wrong, don't let it put you off. We learn from mistakes. Make a note of it and try again. You will learn how to avoid the mistakes. And don't be over ambitious! Start off with something basic and then learn from there.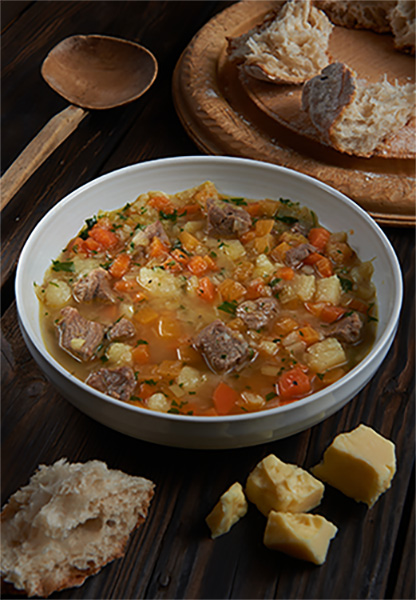 Cawl recipe – a classic Welsh dish
This is the recipe that reminds me of my grandmother and memories of growing up. It's something I grew up eating. My mam-gu was a farmer's wife, so nothing would go to waste. She could easily make something out of nothing. My daughters love making it now as well– it's a real comfort dish for them, too. It's also a very easy, healthy dish to make! Here's the recipe:
Ingredients (serves 6)
1kg lamb shoulder, on the bone
5 large potatoes
3 carrots
1 swede
1 large leek
fresh parsley
salt and pepper
oil and butter
Method (prep: 15 minutes, cook: up to 3½ hours)
In a large saucepan place the meat and cover with water. Bring to the boil and reduce to a simmer, skimming off any 'scum' that rises to the surface. The meat will take 2-3 hours to cook until tender and falling off the bone.
After this time, peel and chop the potatoes, swede and carrots to bite-sized pieces, add to the pot and season with salt and pepper. Simmer for 20 minutes before adding the sliced leeks and cooking for a further 10 minutes. Taste to check the seasoning and add some chopped parsley right at the end.
Just before serving, remove the meat and shred/chop into bite-sized pieces before returning to the pot. Serve in bowls with bread and cheese.
Check out Beca's new book, Feeding My Army, a collection of recipes and military family history examining our connections with food.