Mercy Ships, the NHS, and healthcare systems across the globe – For Alumni, By Alumni
16 July 2020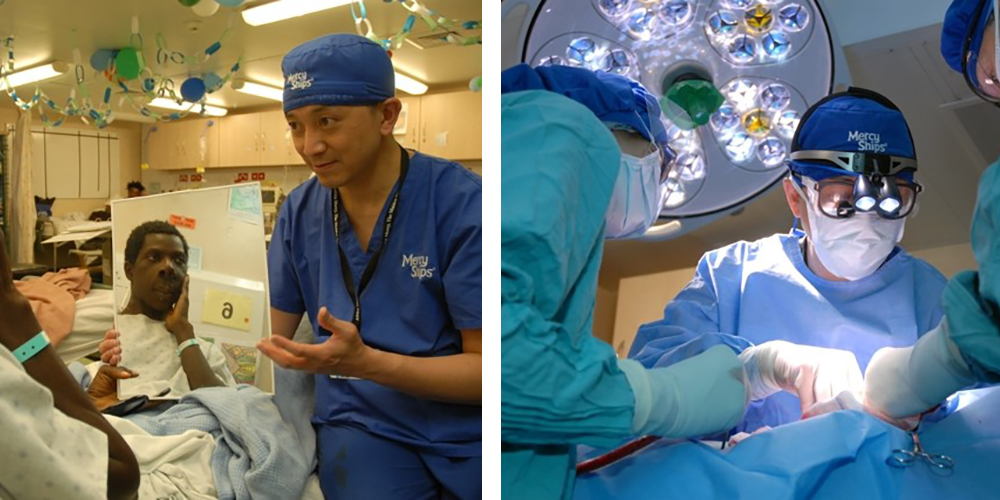 Leo Cheng (LLM 2006) is an oral, maxillofacial, head and neck surgeon who has spent most of his life travelling the globe and helping those from the poorest areas by performing free surgery and providing much needed medical care. He has now turned his attention and efforts to COVID-19 and reflects on his experience so far with the NHS and his concerns for those without a national health system.
For nearly 20 years I have used my annual leave to serve with the Mercy Ships in West Africa, providing free specialist Maxillofacial, Thyroid and Reconstructive surgery to the forgotten poor. Some of my outreach trips have been accompanied by my wife and our two daughters, serving desperate patients together as a couple or a family.
Mercy Ships operates the largest charity-run hospital ship in the world, delivering free, vital medical and surgical care to some of the world's least developed countries. This floating hospital is staffed by volunteers, who give their expertise for free to help patients with dental and eye problems, facial deformities like cleft lip and palate, tumours of the head, face, neck, limbs and body, club feet, child-birth injuries, burns and many other deformities and conditions.
I was serving the people of Senegal on board the Africa Mercy with my wife Hilary, a Minister from the Methodist Forest Circuit in North East London, when COVID19 started to spread round the world. The situation made it impossible for Mercy Ships to continue our field service as the Africa Mercy is a specialist surgical unit and not equipped to deal with a highly contagious respiratory infection. Within a few weeks of arriving back in the UK, I found myself working overtime in the race against the surge of coronavirus in several London Hospitals.
Apart from urgent cancer and trauma surgery for facial and head injury, my team and I are also providing surgical airway support for those seriously ill COVID-19 patients by making holes in their windpipes (tracheostomy) in order to facilitate their lung ventilation in COVID-19 hospitals.
Operating with Personal Protective Equipment (PPE) has been a learning process as we have to ensure adequate hydration while minimising toilet breaks (tricky at times!), clear articulations to avoid miscommunication with a muffled voice under the FFP3 (N99) mask and visor, alteration of surgical procedures to reduce unnecessary generation of aerosol, extra procedures and checks to reduce the risk of 'return to operating theatre', and extended personal hygiene against the invisible enemy.
Although coronavirus has caused extraordinary disruption in all levels of society, it has sped up the embracing of technology and the internet, especially in healthcare. Telephone and virtual clinics have become the 'new norm' and teleconferencing has become a major part of my clinical time – connecting with our clinical and management teams, and multidisciplinary cancer team meetings.
During this pandemic, the NHS is looking after everyone in the safest way it can and has generated the capacity to deal with this unprecedented health emergency. Despite the regretful mortality reported daily in the news, there are success stories where COVID-19 patients have left the intensive care unit and walked out of the hospital. Everyone in our nation claps for the NHS and other key workers every week, but the NHS staff also clap for the recovered patients who leave hospital. For instance, a grandmother of three recently beat coronavirus in time for her 74th birthday.
I am extremely grateful and thankful for the resources and provision of our nation's free world-class NHS, the availability of all basic essential utilities (e.g. electricity, water, gas), food and consumables on supermarkets' shelves, and sensible expert advice from public health professionals to combat the spread of this invisible enemy.
My experience across the globe means that I know just how fortunate we are and how difficult this pandemic will be for others, especially those in parts of Africa.
Africa is bracing for COVID-19. I heard someone say this: when the global north catches a cold, Africa gets pneumonia. This is because of its poor health care infrastructure and high levels of poverty and lack of education. You can see the unbelievable and huge inequality of health care resources and capabilities between the developed and developing world.
Once the global situation allows, we will return to Africa and help strengthen healthcare systems emerging from the pandemic. The Africa Mercy was there for Guinea in 2016 after Ebola swept across West Africa and we will be there for West Africa after COVID-19.
In this challenging time of lock down and uncertainties with the economy, employment and travel, I hope and pray that we as citizens of this world will come out of COVID-19 more loving and caring towards each other by being generous in helping others within and outside our own community.
Tell us what matters to you
We've introduced 'For Alumni, By Alumni', because who knows our alumni community better than…you guessed it, you! We'd love to hear from you with ideas for articles or online events that you're interested in, you can give insight on, or maybe you ARE the story! Check out our full line-up of articles and watch back our live events playlist.