My time at Cardiff really prepared me
1 May 2020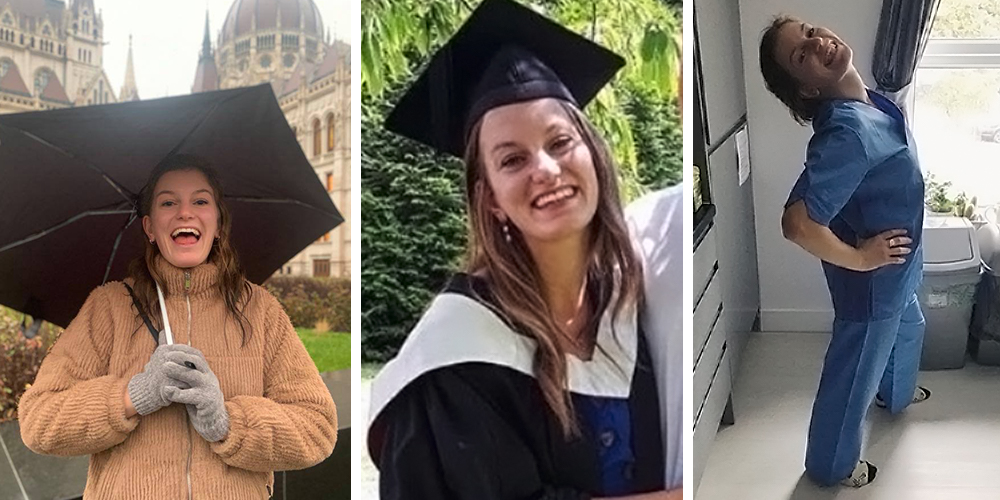 Emily Chestnut (BN 2019) qualified as a nurse in late 2019 and is currently working at Cardiff's Heath Hospital. Her role is based on the A7 gastroenterology and infectious disease ward, which currently provides treatment for COVID-19 positive patients. She's one of thousands of Cardiff alumni on the front line of the global crisis.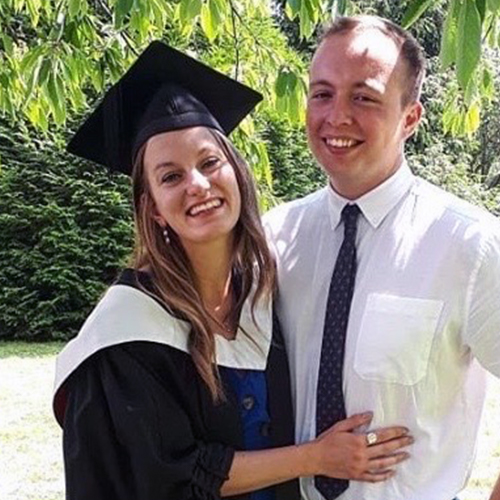 I have made a home in Cardiff. I was brought up in Pembrokeshire and knew I wanted to stay in Wales for university. Cardiff seemed like the perfect location: far enough from home for some distance, but close enough to go back when I wanted. Cardiff is a beautiful city, and I always loved how friendly and supportive the University was. My eldest sister also graduated from Cardiff as a nurse, and I valued the opportunities she was given.
I was lucky to be given great placements as a student nurse. I was given the Accident and Emergency unit, the Intensive Care unit, and various different medical/surgical wards. These experiences set me up to work at the Heath Hospital full time. I already knew how the hospital functioned, what the teamwork was like, and had built relationships with other staff members.
Although nobody could have anticipated what we are dealing with now, my time at Cardiff really prepared me. We were given regular practical scenarios that helped develop our knowledge and ability to make clinical assessments in emergency situations. This practical expertise taught me to identify a deteriorating patient, and how to deal with emergency situations.
During the current crisis, the role I play as a nurse hasn't changed much. Nursing is fundamental to every poorly patient. I want to offer an outstanding level of care to everyone, whatever their reason for admission. What I have seen change is the pressures on shift due to sickness and understaffing. I also find the supplies we have in the NHS have been affected. It doesn't take patients long to run out of their own clothes, snacks, and products like shower gel, toothpaste and shampoo. This is stock that we try to provide, but we don't have it in the quantities to supply a whole hospital.
As difficult as it can get, it is really a privilege to be able to help and use my skills to do good on the front line. I couldn't imagine it any other way. It is definitely a step up from what anyone has dealt with before. Everybody is afraid of the virus and whether our PPE is adequate, and we all go home feeling anxious that we may be taking the virus back with us. Parents have been separated from their children and families. We all depend on each other, and the camaraderie to keep going.
One of the biggest challenges is not accepting visitors into the hospital. Being in hospital is really scary, and our patients can feel isolated and alone. They are separated from their families and loved ones. More than ever, I notice staff stepping up to ensure that we are supporting our patients and their families emotionally as best we can. That might mean stopping to have a chat, wiping someone's tears away when they are feeling alone, or holding their hand during their last hours.
My colleagues on ward A7 have been my rock. I couldn't imagine doing this without them. We work together as a real team and if there is anything I need to know, or am unsure about, colleagues are there to help. I feel very supported. After a difficult shift, I don't hesitate to speak to someone. It is really reassuring to know we are all in the same boat, and that we work as a team to stay afloat.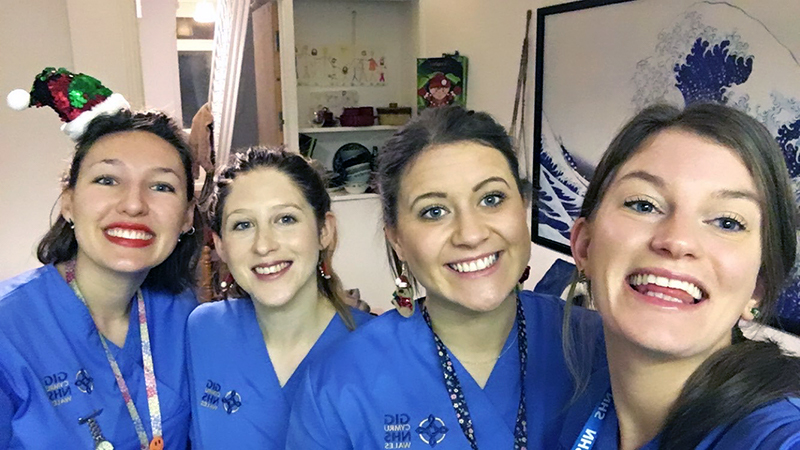 The friends I graduated with are my second family. I used to see them on days off; now I speak to them regularly over the phone or have a chat when passing each other in the hospital. We also laugh together during a quiz night on our mobile phones. It helps to know that we are all going through the same thing.
I find that running on my days off helps a lot. Fresh air helps me to clear my mind, and pushing myself on my runs help to distract me from any worries. Sometimes, after a long shift, I may not move from the sofa because I feel so drained. I can struggle to switch my mind off and resume life outside of work. But I know that's okay, and that I need this time to process. I am fortunate to have amazing housemates who understand and give me so much support.
Now more than ever, it's lovely to see people's generosity and kindness. The public's response and support has been incredible. The wards have been flooded by donations of tablets and phone chargers for patients. Local restaurants have been making food for us to eat on our breaks, and people have made 3-D printed visors and knitted adaptor bands for our face masks. NHS staff are so grateful for everything people have said, donated and made for us.
The 8pm clap on Thursdays bring staff to tears. It all helps beyond imagination. We know lockdown and isolating from your loved ones and friends is difficult. It is a really scary time for everyone, but we've done so well so far, and the commitment everyone has made to lockdown is making an important difference for us in the NHS, and for our patients.
Cardiff University's COVID-19 Protection Fund will provide support for the physical and mental wellbeing of students and staff – keeping people and spaces safe across the Cardiff University community.