How Cardiff is supporting students
1 May 2020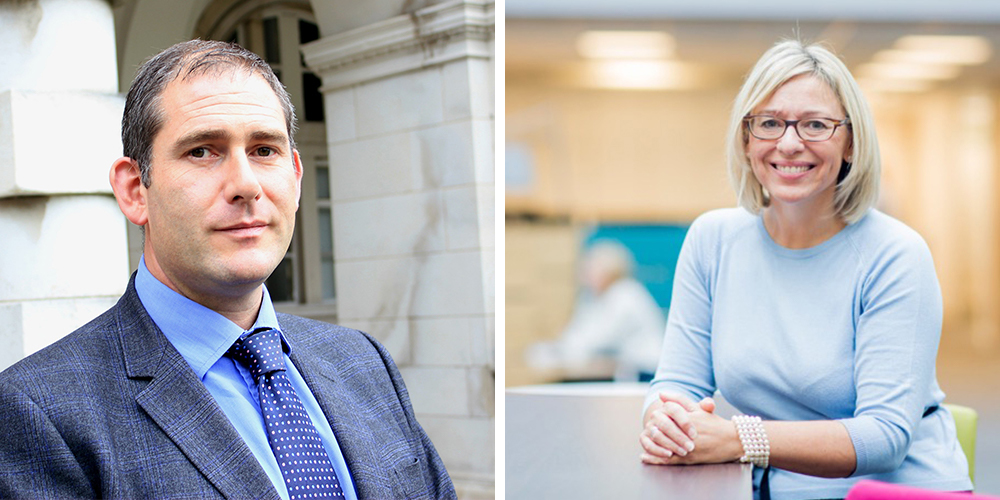 Simon Wright (LLB 1995) and Claire Morgan (BSc Econ 1992, MSc 1994) are both alumni and staff members – they told us about the challenge of supporting students through the crisis.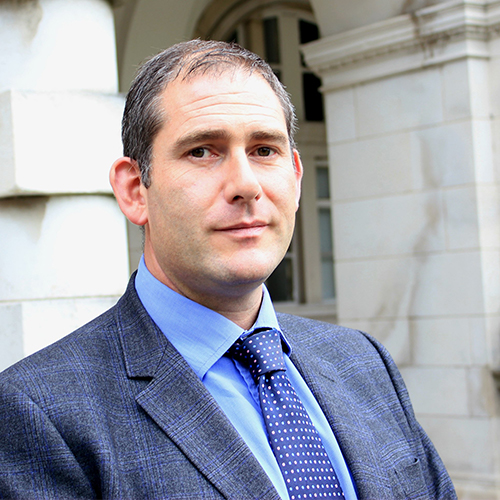 Simon Wright (LLB 1995) has been Cardiff University's Academic Registrar since 2015:
"COVID-19 has put Cardiff students, like many of us, through so much. It has turned everything in their lives upside-down in a very short time.
"The scenario for every student is different, but like all of us, they are finding that everything is now different. In this time of total change and uncertainty, I am really proud of how Cardiff University has supported our students. We've had to take major decisions at breakneck speed – sometimes with little, or evolving, guidance from government and our sector.
"The University first encountered COVID-19 in the early months of 2020, as we found ourselves providing support and guidance to dozens of Cardiff students on placements in China. Advice from the Foreign and Commonwealth Office changed daily, and sometimes lagged behind student concerns. Cardiff students were digesting and acting on advice from us, public sources, and from friends and family globally.
"From the outset, Cardiff's top priorities have been to protect students' health and wellbeing, and their learning and academic progression."
Claire Morgan (BSc Econ 1992, MSc 1994) became Cardiff's Pro Vice-Chancellor for Education and Student in spring 2020, having previously been Director of the Centre for Education Support and Innovation:
"As COVID-19 arrived in the UK in March and we were rapidly told to lock down, the University had to pivot to remote learning at an incredible pace. We focused on using existing digital systems to support this – creating new, simple guides to ensure that staff were able to get up-to speed on remote teaching and assessment.
"We aimed to enable all Cardiff academics to provide remote teaching, focusing on providing digital content to our students in an expedient manner. Some staff were highly digitally literate already, doing flipped learning, or using virtual breakout spaces. But some needed more guidance. It took energy and discipline, delivered at pace, to get everyone upskilled. Before lockdown closed our buildings, some academics delivered lectures to empty classrooms for digital capture! Since then we've seen innovative, online teaching methods embraced, and a strong peer community has emerged across the University. There's a clear desire across every discipline to offer the best possible learning environment for Cardiff students, and maintain their high-quality educational experience.
"Assessment is evolving rapidly too. We want every student to achieve their potential – whether that's graduation this year or moving on to their next year of study. We've developed new methods of assessment, seeking to protect student interests at the same time as maintaining Cardiff's Russell Group standard of degree awards. Many of our first-year students, and almost all of our finalists, will be taking some form of assessment online in the coming months.
"We want to offer students the space to show what they are capable of. This varies widely by school and course. For instance, I studied economics at the Business School and I took my finals in an exam hall. The class of 2020 will take a similar exam digitally, potentially as an open book assessment. Some other disciplines have developed new approaches, offering synoptic or reflective assessments, or replacing exams with coursework which can be done over time.
"Cardiff has developed a ground-breaking "safety net policy" to ensure that for each student, grades or degree classifications already received prior to the outbreak can only be maintained or improved – so no student will be disadvantaged by COVID-19.
"I've arrived in my new role in the midst of enormous upheaval. That's also a time for innovation, and I believe Cardiff will rise to this challenge. We may even emerge with some good outcomes, like more blended learning, and a healthy embrace of digital tools which can significantly enrich learning."
Simon: "Our students have also needed support outside of the classroom. We've promoted our mental health support app, TalkCampus; and are reaching out personally to all students known to our student counselling and wellbeing service. We are making extra hardship funds available to support students dealing with extraordinary financial consequences.
"As a university with 32,000 students, including nearly 10,000 international students, we don't ever really "close." On any day of the year there are thousands of students in our residences and living in Cathays. We know that accommodation matters, and we've worked hard to ensure that no Cardiff student becomes homeless this term. We have waived third term university accommodation fees for all students who have gone home (some leaving behind their possessions, or full refrigerators!) and lobbied the major private providers in Cardiff to do the same.
"Academic tutors are reaching out to students personally. And in mid-March, we established a Student Check-In Service, asking all our students to report on where they were, and what circumstances they faced. We have a volunteer workforce of over 250 staff who are calling students who've remained in Cardiff, at least weekly and in many cases twice a week, to check in and make sure they know how to access both University and Cardiff City Council support.
"The service has been received really well and we've had over 5,500 conversations with our students since we started on 19 March. Many have told us they are coping fine with lockdown, and for those with questions or queries, we've offered advice and guidance.
"We are trying to ensure we are there for those students who might need support most. Many have returned to their family homes, but many have chosen not to, or are unable to do so. The important thing is that Cardiff University is reaching out to its students and helping wherever we can.
"One last thought from me. I think of my own final year at Cardiff, and am sad that a finalist in 2020 will have such a wholly different experience. Students taking online assessments won't all meet up at the Students' Union for a post-exam pint and post-mortem. Our graduation ceremonies, one of the key events in the annual life of the institution can't be held in July. Their absence will felt, not only by students and their loved ones, but across the University.
"Other key university rites of passage will be missed, like packing up houses at the end of term, a final party with friends, or a last flirtation with a fellow student. Hardly anyone is walking in the cherry blossom in Alexandra Gardens and Bute Park will be empty of those combining the joys of revising outdoors and post-exam picnics.
"Cardiff's special, our urban campus offers an unparalleled residential experience – one where students grow in their whole lives. The class of 2020 could feel like their chapter isn't quite finished, but I'm hoping we can help all our students to remember what's best about Cardiff, to know how hard the university is working to support them, and to understand that they are, and will always be, important members of Cardiff's community."
Cardiff University's COVID-19 Protection Fund will provide support for the physical and mental wellbeing of students and staff – keeping people and spaces safe across the Cardiff University community.