A Statue for Lady Rhondda – For Alumni, By Alumni
13 May 2020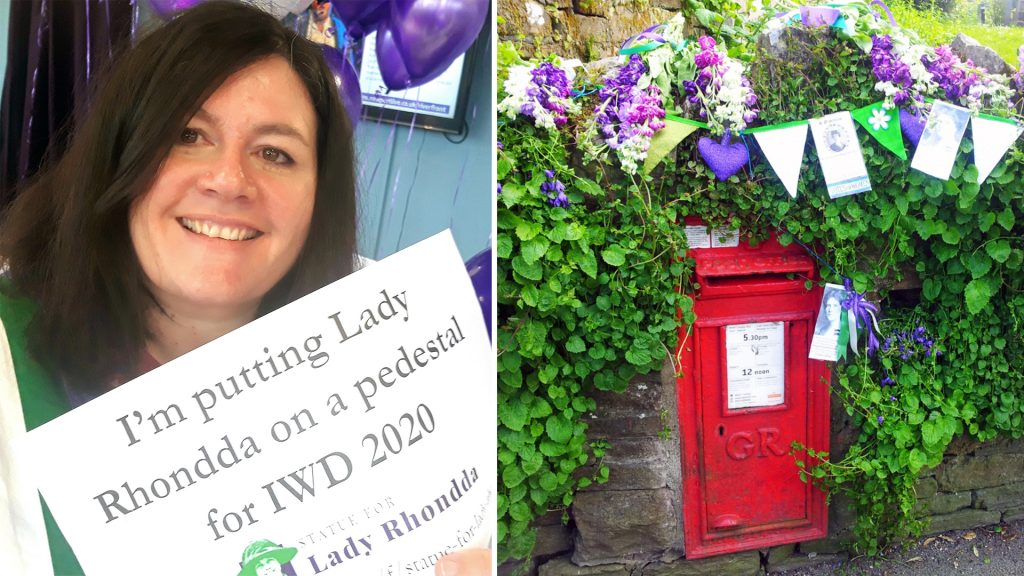 Julie Nicholas (MSc 2005) explains why she is fundraising for a new statue of former Cardiff University President, Lady Rhondda, in her home city of Newport.
Margaret Haig Thomas, Lady Rhondda was one of the twentieth century's most prominent women – a women's rights campaigner and cultural influencer for several decades. Her astonishing CV includes suffragette prisoner, founder-editor of the most notable interwar periodical Time & Tide and, in 1950 becoming President of the University College of South Wales and Monmouthshire; the institution that would become Cardiff University1. Then principal, Anthony Steele, said her election was 'in the best tradition of no sex discrimination in the college'.
I first heard about Lady Rhondda from a chance remark by a speaker at Hay Festival in 2013. A young Margaret Haig Mackworth (née Thomas) had set up the local Suffragette branch in Newport and blown up my local postbox, as part of the national arson campaign by the Women's Social and Political Union (WSPU). Lady Rhondda's life is full of momentous events and feminist pioneering; she survived the sinking of the Lusitania, took over her father's international business empire, and in 1926 was elected as the first female president of the Institute of Directors. In her later years she fought to be the first woman to enter the House of Lords. Today her portrait hangs in the Lords' dining room. I just could not understand how I had not heard of Lady Rhondda before; as someone interested in local history and social justice, how had a woman of such achievement and significance been so quickly forgotten?
I decided to undertake a flower and bunting memorial in 2013 at the postbox to celebrate 100 years since the fateful day. Connections were made thanks to my late, great MP Paul Flynn with soon-to-be Assembly Member Jayne Bryant and Newport East MP Jessica Morden, both Lady Rhondda fans. In turn I made contact with Lady Rhondda's biographer Prof. Angela V John, local film maker Amy Morris, and many other local women, who all came together to form a gang of Lady Rhondda enthusiasts.
A plan was hatched for a more permanent commemoration; I coordinated a crowdfunder for a blue plaque. In 2015 we revealed the plaque next to the post-box Lady Rhondda set on fire, the first, long overdue public memorial to Lady Rhondda in her home town of Newport.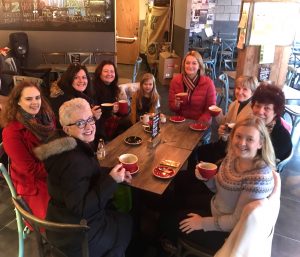 In 2018 our 'Lady Rhondda gang', inspired by the number of statues springing up across England to celebrate a century of women's suffrage, made contact with the Monumental Welsh Women through the BBC Hidden Heroines campaign, whose aim is to fundraise for five new statues of women across Wales in the next five years; in 2019 the 'Statue for Lady Rhondda' campaign was born.
Thanks to Welsh Government we received a generous £20,000 start towards our £100,000 target. Many Institutions were touched by Lady Rhondda's brilliance and support during her lifetime, and we are very grateful to those institutions who are able to directly contribute or support the campaign. I would like to personally thank Cardiff University for a donation towards the statue and consideration of her for the Notable Names campaign (I voted for Lady R, because she fought for my vote!).
I find out something new about Lady Rhondda fairly regularly. As a graduate of the Housing Masters at Cardiff University, and someone who has worked in Social Housing and Homelessness services for 20+ years, I was particularly delighted to hear that the Women's Pioneer Housing group had discovered she was an original donor to their organisation. In the aftermath of World War I, as the nation implemented 'Homes fit for heroes', Lady Rhondda was supporting women's access to good, affordable homes too. She was there right at the beginning of the modern housing movement.
As I write this article there is still no public statue of a named woman in Wales, but the good news is there are several in the offing, thanks to local groups like Statue for Lady Rhondda. Influential Welsh women deserve to be celebrated and remembered, not least to help inspire the next generation of leaders, creators and thinkers of both sexes. Statue for Lady Rhondda aims to right the current public wrong. Do find out more about the Monumental Welsh Women Campaign and the Statue for Lady Rhondda group and join in. We can do it!
1 Turning the Tide: The Life of Lady Rhondda, Angela V John, Parthian:2013


Tell us what matters to you
We've introduced 'For Alumni, By Alumni', because who knows our alumni community better than…you guessed it, you! We'd love to hear from you with ideas for articles or online events that you're interested in, you can give insight on, or maybe you ARE the story! Check out our full line-up of articles and watch back our live events playlist.