What the Urdd means to me
31 May 2019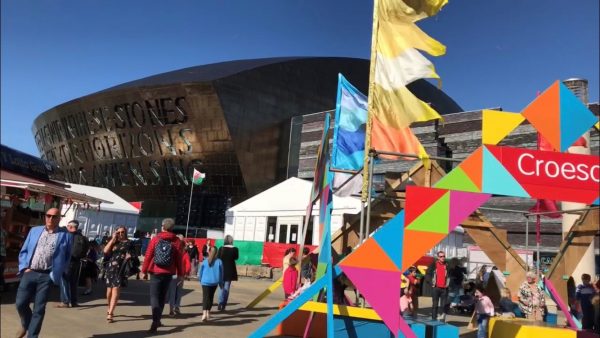 This week, the Urdd Eisteddfod – a youth festival which celebrates Welsh language and culture – visits Cardiff Bay. Cardiff student, volunteer and competitor Nia Eyre (Welsh 2017-) told us what the Urdd means to her. 
Cardiff Bay was transformed into a lively maes for the National Eisteddfod in August last year, and this week the Urdd has taken over the same setting.
The Urdd camps are amazing and unique places. There are four camps: in the Bay in Cardiff, Llangrannog, Cardiganshire, Glan-Llyn near the Bala and a less well known one in Pentre Ifan, Pembrokshire. I'm proud to say that I have stayed at all four.
I'm sure that everyone who has experienced Llangrannog can remember fearing the 'Black Nun' – a strange tradition where the older kids went around at night wearing black to scare the younger children! I never did, of course.
Now, as a Cardiff student, I'm so proud to see the Urdd coming to the Bay.
At the opening concert, I performed on stage at the the Millennium Center with Aelwyd y Waun Ddyfal. It was an incredible (although a bit overwhelming!) experience and I'm so looking forward to competing with them on the final Saturday.
I've competed at the Eisteddfod nearly every year since I've been old enough to remember, and I hope that we will beat our rivals in a competition or two this time.
But it's not all about winning: I feel quite comfortable in presenting and speaking publicly, and it's the fact that I have stepped onto the Urdd stage since I was in primary school that has given me that confidence.
In fact, the Urdd has always helped me to become the person I am. I went to Llangrannog many times as a child, but it was a different experience to go there as a swog [volunteer] with pupils from year 7 when I was in sixth form.
It was great to develop leadership and pastoral skills – to name just a few – and I feel sure I'll continue to learn with every future visit.
The 2019 Urdd Eisteddfod runs between 27 May-1 June in Cardiff Bay.