Cardiff University at the 2019 National Eisteddfod
31 July 2019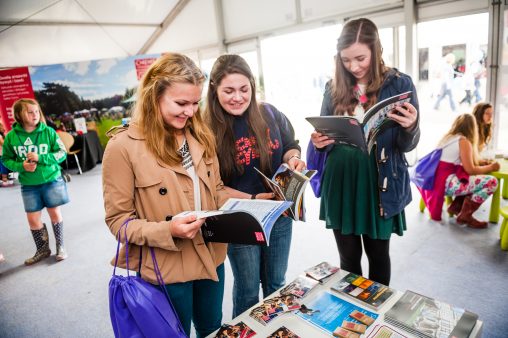 Cardiff University will be hosting a range of exciting events during the National Eisteddfod in Conwy County that will explore Wales' culture past and present. The events, in the University's tent on the maes, will cover topics including, poetry, heritage, identity and more.
The University's contribution to the Eisteddfod is demonstrative of its proud commitment to the Welsh language and culture, and we are delighted to invite alumni to a special drinks reception on 9 August (15.15) to socialise and share their stories of Cardiff.
Visitors can also come to hear academics from across the University, including Dr Dylan Foster Evans (Head of the School of Welsh) discussing the use of language in graffiti, walls and castles, and Dr Huw Williams (Dean for the Welsh Language) exploring Wales' history, starting with the work of William Salesbury who famously translated the Bible into Welsh.
The University is also offering the chance for visitors to explore an important Welsh Language resource, which is the National Corpus of Contemporary Welsh (CorCenCC). The Corpus is nearing its target of 10 million of contemporary Welsh words and will be on display for the public before its full launch next year. The CorCenCC events will run on 6-7 August in the University's tent as well as on the same days in the societies tent.
The University also welcomes staff member and winner of the Chair 2017, Osian Rhys Jones, who will give a talk on the cynghanedd where the public can learn more about the challenging form of poetry.
The annual Cardiff University School of Journalism, Media Studies and Culture debate will focus on the future of print journalism in Wales, with a panel of experts including the new head of Golwg, Sian Powell (BA 2009, MScEcon 2011). The Cardiff alumna is starting her new role during the week of the Eisteddfod and her views on the industry will be keenly anticipated.
The University's digital news service returns to 'Llais y Maes', where students will work with industry professionals. Some of the those involved include ITV Cymru Wales employees Liam Ketcher (BA 2018) and Elen Davies (BA 2018) who will supporting the students and sharing their skills.
As, the University has also organised several exciting practical activities in the Science Village. There, visitors can:
Visit the amazing antibody exhibition and, with the help of a priceless sheep called Darwen, learn how antibodies protect us from bugs and how she is helping humans to develop antibody medicines
Find out more about honeybees and their 'magical' powers, and how they are inspiring the next generation of Welsh scientists
Discover how polymers have amazing properties that can be used to make water-resistant rugby balls and new materials for healing humans
As you might expect, there's something for everyone – and so we hope to see you in Llanrwst!