Tony Woodcock (BA Music, 1974)
11 July 2018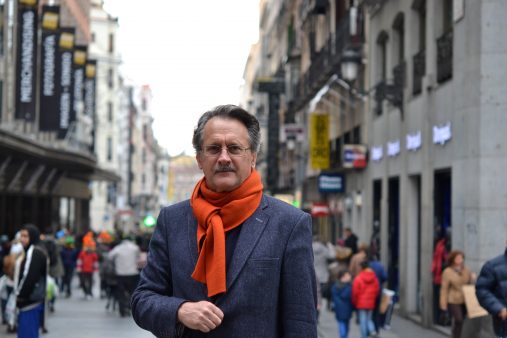 Tony Woodcock (BA Music 1974) is the founder and president of Scolopax Arts, a leading consultancy firm for higher education and the performing arts. He is the former President of the New England Conservatory in Boston, USA. As a veteran fundraiser, negotiator and institutional reformer, he has made dynamism and fresh ideas the foundation of his leadership, and has left a legacy of potent innovations still in evidence across the United States and Great Britain.
Cardiff University was a natural choice for me. Wales is such an amazing place and it became a very important part of my early life. I really came to love the place and it's somewhere that I return to every year.
Wales has always provided me with the most glorious opportunities and I shall be eternally grateful.
My highlight studying at the School of Music was working with an outstanding professor, Richard Elfyn as my tutor. He was an extraordinarily intuitive musician who could just turn to the piano and replicate any work he'd only heard once. His knowledge and encouragement were exceptional.
After graduating from Cardiff University, I began a career in arts management with positions at the Welsh Arts Council and South East Arts, returning to Cardiff in 1984 as General Manager of the newly opened St David's Hall.
This led to directorships at a number of orchestras in the UK including the Royal Liverpool Philharmonic, and Bournemouth Symphony Orchestra before moving to the States in the late 1990s where I ran the Oregon Symphony and then the Minnesota Orchestra.
One of the many highlights of my career was commissioning Sir Paul McCartney to write the Liverpool Oratorio to celebrate the 150th anniversary of the Royal Liverpool Philharmonic.
In 2007 I was appointed President of the New England Conservatory in Boston, USA. During my time there I totally repositioned the orchestral programme and appointed conductor Hugh Wolff as its Director. I also created the Entrepreneurial Musicianship programme, which provides new extra musical skills to help musicians in the management of their careers and established the El Sistema Fellows programme working closely with Jose Antonio Abreu in Venezuela.
In 2015 I founded Scolopax Arts, an innovative consultancy specialising in creative project work in the performing arts and education. In this role I undertake strategic planning, artistic direction, fundraising, strategy development, teaching, and mentoring. I have worked with some fantastic organisations including the Royal Northern College of Music; Incontri in Terra di Siena Festival, Tuscany; the Shepherd School of Music at Rice University, the University of North Carolina School of the Arts and Yale. I am currently Visiting Professor at the Reina Sofia School of Music in Madrid and Berklee College of Music in Valencia.
In July 2014 I was thrilled to return to Cardiff University to receive an Honorary Fellowship. It had been 40 years since my graduation and I was received with such warmth and generosity. The whole day was both emotional and joyous moment for me. Cardiff is great and still possesses such tremendous vitality and energy.
If I were to give advice to future students, I would say firstly look at all the angles and don't just give up easily, it's a tough industry. Think about what gives you an edge. Travel and studying in a different environment and culture is an amazing opportunity to develop both intellectually and as a human being. And, finally, think and reflect. We tend not to do enough of either and we all know the problems that creates. You should always be considering your plan and how best to make it a reality. Its really just part of making life intentional.