Dr Sebastien Chapleau (PhD 2009)
9 April 2018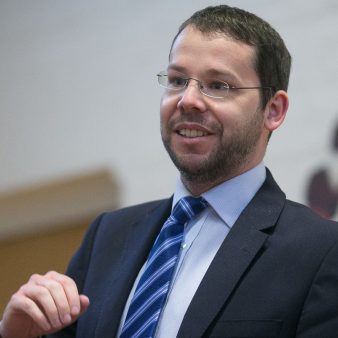 Dr Sebastien Chapleau (PhD 2009) studied at the School of English, Communication and Philosophy. Sebastien is now Headteacher at La Fontaine Academy, the first state-funded primary school with a key focus on the teaching of French.
I went to Cardiff to be supervised by Professor Peter Hunt who, at the time, was the most renowned academic in the field of children's literature criticism. The School of English, Communication, and Philosophy was (and still is) full of academics whose work has been influencing English Studies for years.
I spent a wonderful time while studying at Cardiff. The people I studied with and lived with made it an experience I'll never forget.
Cardiff reinforced my sense of purpose. Whilst studying I was constantly in touch with academics whose work focused on challenging the status quo.
Constantly being able to question the world around us enabled me to develop my own thinking about what can/should be done through primary education.
Straight after graduating, I trained to become a teacher. I taught in South East London for a few years before being recruited to develop the first 'Community Organising in Schools' project in the UK. After organising and training school leaders for five years, I joined a fast-track training course to become a head teacher. Thanks to some intensive training, I was able to move from the role of teacher to that of head teacher in about 12 months. My first role as a head teacher was to set up a school from scratch! I am currently in my fifth year of Headship, still in the same school. My school – La Fontaine Academy – is the first state-funded primary school with a key focus on the teaching of French.
In my current role, I am able to apply many of the ideas I was able to discuss while at Cardiff. It's great being able to apply the many theories I researched to the real world and see the impact this can lead to.
I would tell new students to make the most of their university experience: there is so much to learn. The world we live in is increasingly becoming insular and it seems that new ideas too often get suffocated. Resist that and keep pushing boundaries.