My Cardiff is… made to measure
21 November 2017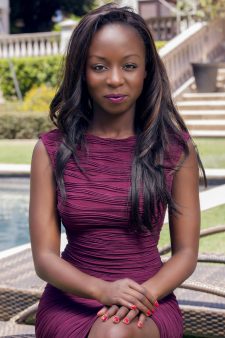 Tania Habimana (BSc 2010) is the creator and host of African TV show Tailored Business where she interviews entrepreneurs and fits them for a suit.
"My job is an adventure: I travel around Africa and meet amazing people.
After I left Cardiff, I spent time in Milan, and then started worked for the Dutch menswear company, Suitsupply. That was my introduction to the fashion world. I learned more about fabrics, suits and the art of tailoring than I ever expected.
Suitsupply wanted to expand into Africa, so I relocated to Johannesburg. While there, I was headhunted by a South African news crew, who had spotted an interview I had done on TV. Television news wasn't for me, but it got me thinking about how I could merge my role at Suitsupply with my newfound passion for telling the "African business story".
"Then I realized it was simple. Every day, I was fitting really successful and interesting businesspeople for suits. I'd leave each meeting with a wealth of new knowledge and business tips. I realised how great it would be to share these, and that's how Tailored Business was born. In this series, I'll be visiting 13 cities across Africa.
Coming to Cardiff University was the first time I'd lived alone. I found the Welsh capital bustling and lively; the perfect backdrop to four years studying Business and European Language.
Networking is important in any career, but even then I was building relationships. I made friends from Nigeria to Malaysia, China to India, everywhere! It was quite the introduction to building an international network.
During my second year I founded a hip-hop dance society called Slash. We spent a lot of time pushing for visibility, gigs and members; it was hard work. Three years on from its inception, we'd grown to 30 members and secured a place in the top 10 UK hip-hop dance crews.
It was all fun at the time, but the things it taught me about building brands, managing groups and – in essence – starting a business, were invaluable.
I love what I do. I meet people who are making a huge impact in so many different fields. I've had coffee with the CEO of Java House, made a suit for the founder of Jamia and met Peter Okoye from Psquare, one of Nigeria's most famous bands. Getting their perspective on the world is priceless and now I get to share that with everyone else."
You can watch Tailored Business on YouTube.