My Cardiff is… a new vision for optometry
15 November 2017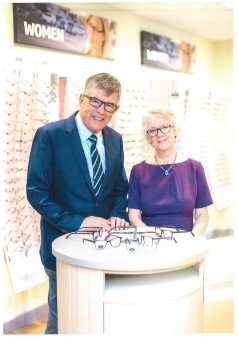 Dame Mary Perkins DBE, FBOA (BSc 1965, Hon 2005) is the founder of Specsavers, the high street optician with 1,600 stores worldwide.
"You can trace the Specsavers story as far back as 1953, when my father first qualified as an optician. I helped him in the summers, which is how I got into optics – I've no idea what I might have done otherwise.
"I went to the then Welsh College of Advanced Technology. It was one of few options outside London. I didn't visit beforehand; in those days you registered by post and turned up! There were 17 of us based in the Redwood Building, and I met Doug (Doug Perkins FCOptom (BSc 1965, Hon 2005) on the very first day of our course.
"He proposed marriage at the end of our first term.
"From early on, we had two principles. The first was that we weren't going to work for anybody else. The second was, in an era where provision outside the NHS was expensive and waiting lists long, we were going to lower prices and see more people.
"When Doug and I started out we worked long hours because we knew if our business folded we wouldn't get paid and we wouldn't be able to look after our family."
They built their practice, Bebbington and Perkins, into a successful chain of 23 outlets, which they sold in 1980. Specsavers was born four years later, when Mary was working for Citizens Advice and Doug was a college lecturer. Their office was their spare room, using a table-tennis table for their paperwork in the absence of a desk.
"The Specsavers brand came about with the deregulation of the optician's market in the eighties. It meant non-optometrists could open practices, and many tasks, like dispensing glasses, could be delegated. Opticians were even allowed to advertise.
"We'd had such fun running our own business that we wanted to share that privilege. Hence we now operate as a joint venture partnership, with 2,400 in-store optometrists the independent owners of Specsavers branches, serving 31 million customers worldwide.
"We certainly would not be in that position if it were not for our time in Cardiff.
"We come back often. A lot of Cardiff students now do their pre-registered year at Specsavers, so we like to visit the new premises [on Maindy Road] and talk to them. I know they're really happy there; the facilities are some of the best in the country."