Examined Life – Vithiya Alphons (BSc 2017)
21 November 2017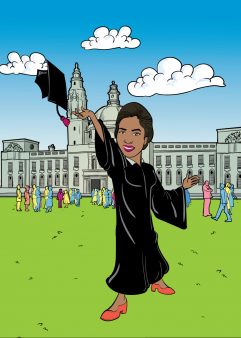 At the start of her final year at Cardiff University, Vithiya Alphons (BSc 2017) was diagnosed with acute myeloid leukaemia. After initially being given just two months to live, Vithiya survived her battle with cancer and graduated in summer 2017.
At age twelve I started to lose my sight. I was later diagnosed with an eye condition called Keratoconus. It's a degenerative condition, so I began learning to read Braille. But then I was taken to an optometrist and thanks to their treatment, I was able to see again. I remember being amazed that someone could change my life so drastically, and I thought, that's the kind of change I'd like to make. Cardiff University has the best Optometry school in the UK so I was thrilled when I got in.
In my second year, I got the opportunity to help 1,700 people in Moldova. I had the chance to volunteer as part of my course. We were there for five days, giving free eye tests and providing glasses in deprived villages. It was the most rewarding thing I've ever done and the highlight of my three years' study.
I had the best days at Cardiff University. It helped that I had a wonderful group of friends; we made so many memories. I still miss Cardiff and can't wait to return. In the spring, the walk around campus is beautiful, with all the cherry blossom and the petals blowing in the wind.
My cancer diagnosis was shocking, but I was determined to stay strong. The thing I found most difficult was thinking about how it would affect my parents and younger brother; we're an incredibly close-knit family. In the end, I just resolved to keep fighting. I didn't ever consider anything else.
I was told I had just two months to find a stem cell donor. The challenge to find a suitable match seemed daunting, particularly as not many people of Sri Lankan heritage are registered donors. But my family was incredible, organising donor drives and a social media campaign. The response was overwhelming; I got thousands of messages. As a massive "Potterhead", to see the likes of J.K. Rowling get involved was fantastic. Not everyone gets that kind of support, and I was very grateful for it.
Less than two months after I'd completed my treatment I wanted to go back to University. The doctors weren't too happy but I wanted to try it. It was hard; I'd been in hospital for ten months and received five rounds of chemotherapy, one round of radiation, as well as thousands of injections and tablets. I couldn't get to lectures because after a bone marrow transplant you are like a new-born: you have no immunity. So I had to study on my own. In clinics, when I needed to treat members of the public face-to-face, they had to be vetted to make sure they had no coughs or colds.
Graduation day was amazing. Just a year after leaving hospital, there I was, graduating! The highlight of the day was my surprise party. We went for dinner and my entire family turned up with presents and bouquets. I honestly didn't expect it, I was so happy!
No matter how tough things get, never give up. There were times during my treatment when giving up would have been the easier thing to do, but I reminded myself I had to keep going. If I can do it, then anyone can.
Since graduating, I've been to Portugal and spent quality time with my friends and family. One of my favourite hobbies is reading. It is my go-to thing, to escape into my own world.
In a year's time I hope to have my own practice. I start work at Specsavers soon * and in the future I want to go into further study.  My ultimate dream is to set up an eye foundation in Sri Lanka where I was born. We're so lucky to live in this country where we know we'll get the treatment we need. I want to give that kind of opportunity to the people in my home country.