Future Leaders in Cancer Research – Dr Stephanie Smit (BSc 2010, PhD 2015)
22 August 2017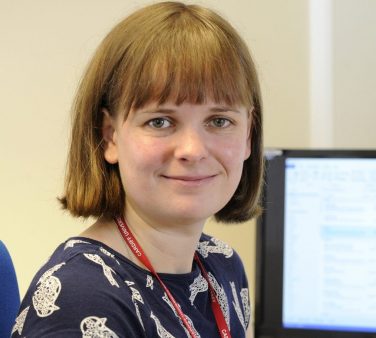 Future Leaders in Cancer Research is Cardiff University's talent programme for clinical and non-clinical early career cancer researchers who have a proven record of research and are within five years of completing their PhD.  The programme proactively identifies, supports and nurtures the cancer research leaders of tomorrow.
Dr Stephanie Smit (BSc 2010, PhD 2015), a Research Associate for the screening, prevention and early diagnosis team  in the School of Medicine's division of population medicine, is currently part of the programme. Here she shares an insight into her work.
"I am a behavioural scientist working on projects that focus on screening, prevention and early diagnosis of cancer. I am currently working on multiple projects, including community cancer awareness interventions, lung cancer early detection and prevention, and interventions for primary care physicians to improve cancer knowledge and early diagnosis. In particular I am developing my personal research interests and ideas in the area of bowel cancer.
"I'm working to help understand who takes part in bowel cancer screening, what experience they have in the screening programme, and how this experience can be improved. I am particularly interested in understanding this in people who have other health conditions.
"As a Cardiff based researcher, the Welsh population are at the heart of my research, but much of the work can be transferred to benefit people throughout the UK, and the rest of the world. My research focuses on exploring the motivational and behavioural aspects influencing early presentation. I hope this will help to inform the design of interventions to improve screening outcomes and to expedite early diagnosis.
"My work also aims to improve understanding of inequalities in cancer awareness and uptake in screening programmes in high risk, harder to reach groups. The bowel screening work will help identify the possible impact of overall health on individual decision making and experience of screening."