Legends of Cardiff- Andy Williams (MA 2000, PhD 2004)
1 August 2017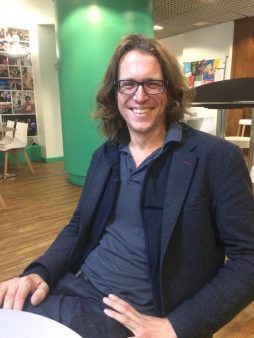 Hi, I'm Andy. I've been at Cardiff since 1999 when I did an MA and then a PhD in Critical Theory and Cultural History.
"I started work here in 2006, joining the School of Journalism as a research associate. I've been lucky to work on some really fascinating research with some inspirational media academics and journalists. In 2010, I started a full-time lecturing post here. I've learned so much about how the world of media works, what's wrong with it, as well as how it's changing for the better; being able to teach and research that area has been brilliant.
"There's two things I love about my job. The first is having the freedom to set my own goals and research unique areas. That autonomy has always been one of the best parts for me. The second thing is teaching; it is a pleasure to meet and work with intelligent young people from all over the world and help them on their journey. There is nothing quite like meeting a student years later and hearing how their Cardiff education has helped them in their jobs, and, more importantly, in their development as thinking, critical humans and citizens.
"I've had many great experiences here, but a few embarrassing ones too. I did once unwittingly do a whole lecture with a broken zip on my trousers, and my shirt hanging out of the fly. A very sheepish student raised their hand and pointed this out, after which I made a red-faced retreat behind the lectern.
"I have advice for graduating journalism students, many of whom are looking around and getting quite scared about all of the crazy things happening in the world: from the threat of war and climate change, to political and business corruption. But with their Cardiff University education they are in an amazing position to use their skills and their passion to produce media that can help to make a better world, to expose wrongdoing, and to fight injustice. One of my own lecturers told me: "if you dig for gold, you find a shed load of dirt, and not much gold. If you dig for dirt, there'll always be plenty, and every now and then, you'll find a nugget of gold." I think that's a good motto for aspiring journalists."