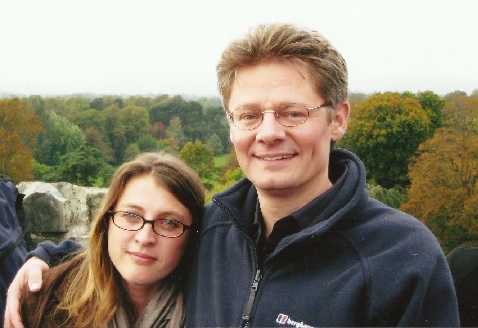 Chris Wagstaff (BSc 1989) and Dr Helen Powell (BA 1989) fell in love during their time together at Cardiff University, and are still in love thirty years later
Helen and I met at University College, Cardiff – as it used to be known – in November 1986, on Helen's 20th birthday.  We were living at University Hall, and met in the residence's bar.  30 years on, we're still together, living in London with our two cats.  We still have a passion for what we learnt at Cardiff, as evident from what we have both been doing since.
Initially working as Head of Research in an Investment Bank, Helen gained an MA in Cultural Studies and a PhD in Film, whilst working at a London advertising agency. Helen is currently Head of Psychosocial Studies at the University of East London, and has written and co-written four books.
I work in asset management – teaching, writing and presenting.  Additionally, I'm a Senior Visiting Fellow at Cass Business School, and have co-written a book on pension scheme investment.  My work has been recognised by a number of industry awards, most recently as Industry Champion at the Financial Times Awards 2016.  I remain a passionate cyclist, as I was in Cardiff, and ride in the Alps and Pyrenees each summer.
Helen and I have fond memories of our time at Cardiff University and for a short time had a house in Penarth Marina. Most of all, we have enjoyed seeing Cardiff grow and develop as a city over the past 30 years and, of course, seeing Cardiff University gain ever greater prominence as a Russell Group university.