#CardiffCariad – We found love in Cardiff
14 February 2017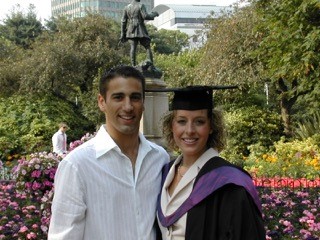 Time spent studying at Cardiff University can be life changing in many ways, it is often where you live independently for the first time, discover new interests and make plans to shape your future career. For a number of Cardiff alum it is also the place where they fell in love. This Valentines week we'll be sharing stories from Cardiff University alumni couples from across the globe who found love in Cardiff.

Alexandra and Simon
Alexandra (LLB 2003) a solicitor met her Husband Simon (MBBCh 2005) a GP in October 2000 when they both lived in Talybont South.
'Simon lived in the flat below me, I was studying law he was studying medicine.  We first encountered each other after I broke a glass and started hoovering outside his room at 2am in the morning, he came out to complain as he had an anatomy exam later that day. It still took us a year to finally get together as a couple and we married in 2006.
'11 years and two children later we are still very happy. Neither of us are from the Wales area, but Cardiff University and a broken glass brought us together! We still share fond memories of Cardiff University and the nights out in the Students' Union.'

Esther and Sam
Esther (BA 2012, MA 2013, PhD-) and Sam (BA 2011) met in their first few weeks in Cardiff, 8 years later they are now married and still living in the city today where Esther now works for Cardiff University and Sam works for a charity working with students who want to share their faith on campus.
'I came to Cardiff University in 2008 and met Sam within the first couple of weeks through the Christian Union Society, we  soon fell into the same friendship group. We spent a lot of time together and became best friends. I liked him pretty early on, but it became apparent that I was just a friend – a good friend, but a friend nevertheless to him.
'When I went on my year abroad, Sam realised that he missed me, that he really missed me. He talked to his mum (the best thing a guy can do), and when I came back for Christmas he told me that he wanted to spend his life with me.
'When I came back from France we made it official, getting engaged and then married in October 2012 . We are realising more about love and about each other everyday, but we are so grateful for those years of friendship at Cardiff University nearly a decade ago.'

Harriett and Andrew
Harriett a communications manager (BA 2010, PGDip 2011) met Andrew a pharmacist (MPharm 2011) on her first day at Cardiff University in 2007.
'I met my husband, Andrew Kings, on my first day at Cardiff University on 20 September 2007. We were in the same halls in House 24, Talybont South. We hit it off straight away, but as flatmates we didn't want to make things awkward for our friends, so we kept our relationship a secret for about nine months. We stayed together the whole way through our time at Cardiff University and last July, almost nine years after meeting, we got married in Cardiff. I am from near Brighton originally and Andrew was born in Bassaleg, but we love Cardiff and now live here together in Roath.'

Katka and Phillipp
Katka (MA 2008) and Phillipp live and work in Prague as attorneys, they were both international students coming to study at Cardiff University when they fell in love.
'I met my husband at Cardiff airport, I was doing my master course in European Studies and International Relations, Phillipp was an Erasmus student coming to Cardiff University to study law. We met on 21 September  2006 at Cardiff airport on our very first day, when we were waiting for the bus to campus and it was love at first sight. We have been together ever since having got married two years ago, we now have a daughter together Emilia.'
 
Georgie and Matt
Georgie (BA 2012) a recruitment consultant met Matt (BSc 2013) an accountant when they both worked in the Students' Union Bar.
'I was a Team Leader and to my embarrassment, the other Team Leaders would send Matt over to work on my bar. Trying to play it cool, I gave Matt the awful jobs of washing the floor and taking the bins down. However one post work party, in the romantic backdrop of Live Lounge, Matt asked if I wanted one of the Live Lounge premium £2 cocktails and the rest is history. How could any girl refuse an offer like that?'

Ed & Kate
Ed (BSc 2006, MA 2007) met Kate ( BA 2005, MA 2010) on his first day in Halls in 2002.
'Kate was the first person I met on my first day at Talybont South. We became good friends but nothing more! If you'd have asked our friends then if we'd end up married they'd have laughed out loud, but a spare ticket to Wales v Scotland six nations in 2010 and, it's fair to say, one or two beers would change all that.'
'We have both stayed in Wales, I work for the Royal College of GPs and Kate works for the National Adoption Service in Wales. We got married in 2013, and are expecting baby number two in August 2016!'

Thant & Harshad
Thant (PhD 2009) met Harshad (PhD 2009) while they were both studying for PhD's.
'We met at the Wolfson Centre for Magnetics. I started in January 2003 while Harshad had been a PhD student there since September 2002. I didn't meet him until much later in 2003 as he never used to turn up to university – one of those students. I suppose that made me curious about him. We soon became friends and in November 2003, I asked him for a coffee as he wasn't making a move! We got married in 2008 – also 'instigated' by me'.
'City Road was our other favorite place in Cardiff, especially for the food. Cardiff is simply vibrant and full of different cultures that embrace the 'Welshness' – it would be wrong not to especially during the Rugby season. Cardiff caters perfectly for students young and matured alike. But above all, Cardiff being the Welsh capital is what we loved most'