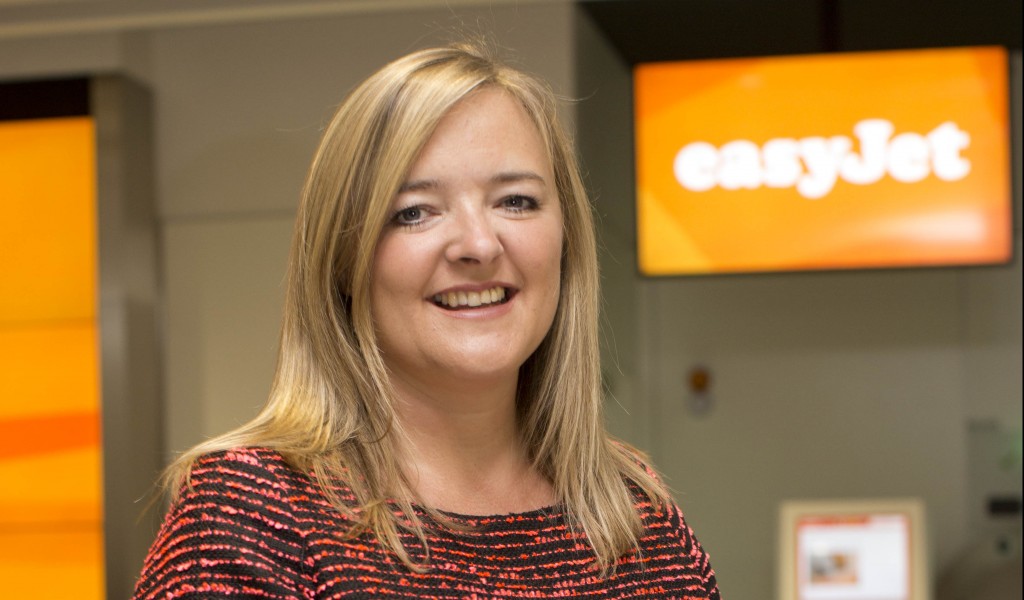 EasyJet's UK Country Director Sophie Dekkers (BA 1999) is in charge of driving the company's commercial and strategic ventures in the UK, as well as handling its 120 aircraft and £2.8bn revenue.
Cardiff University has a great reputation – it was the only university to offer a specific course in English and Communications. I was also attracted by the idea of living in a city small enough to get about on by foot, but big enough as a capital to attract big name bands and international sporting figures. Some of my fondest memories include watching rugby games, learning to scuba dive in the Olympic pool, and sea-diving on the West Wales coast. I worked on the University radio station as well as behind the Union bars, and met my husband at Cardiff!
My Cardiff degree opened up lots of options for different career paths. I'll be honest, I didn't know exactly what I wanted to do when I left Cardiff; I didn't have a specific career path mapped out. I applied to join a graduate scheme at Millward Brown, a global research agency. I've since learnt that Cardiff was on a short-list of 'red-brick' universities that the company selected candidates from, so studying at Cardiff definitely opened doors.
There have been a few setbacks along the way, but in hindsight I was destined to end up in aviation. I didn't quite get the A-level results I wanted, I wasn't able to raise the funds for a Masters, and I was unsuccessful in a promotion I previously went for at easyJet. But I've discovered that every time, however tough it feels, there's always something better round the corner.
This is my fifth role in nine years at easyJet. I'm always putting my hand up to get involved in things which have inevitably led to new roles and different opportunities. I believe it's how you handle setbacks that makes you a stronger person – if you can emerge more determined, seeking better opportunities, this will carry you a long way.
There's no such thing as an average day at easyJet – that's what's great about it. One day I might be having a conversation with the Prime Minister, the next day I'm number-crunching data trying to understand the impact of a terrorist attack on customer demand. I spend time in our 11 UK bases speaking to crew about operational challenges, talking to airports about route opportunities, looking at trade figures, writing business cases, and keeping an eye on our competition. Throw into the mix a meeting with an ambassador or political leader, speaking at industry conferences, or engaging with our Women's Network.
We are in the midst of one of the most challenging aviation environments we've experienced. With French strikes and weather disruption all airlines are finding it harder to operate schedules, and the geo-political climate is lowering customer demand and seeing people switching away from some destinations and back to more traditional beach destinations in Spain & Portugal.
Brexit has the potential to significantly impact the aviation industry. We may be in a scenario where people need visas to travel to Europe, and who knows what the exchange rate will do, but at the moment it's too early to tell. After the UK leaves the EU, easyJet simply wants to continue to fly our passengers and employ people across Europe as we do today, and so we are lobbying the UK government and the EU to ensure the continuation of a fully liberal and deregulated aviation market.
I didn't come from a privileged background. I was state-school educated and have worked my way up from a graduate role earning £15k to where I am today. I've found that telling my story in an open and honest way can inspire people, and I get a lot from it. I enjoy going into schools and talking about my journey, or at events like Management Today's 'Inspiring Women' conference.
My best advice for women in business is to take more risks when applying for roles. It's a known fact that most women only apply for roles when they feel 100% confident they could do every aspect of the job. Men are more likely to be risk takers, and apply for roles knowing they can only do about 50%, learning the rest on the way. Women need to have the courage to do the same, and not get demoralised by knock-backs.