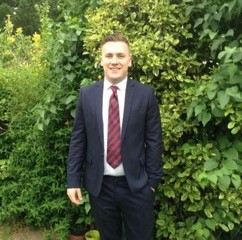 Ben Parker (Criminology 2014-) has taken on the challenge of running the Cardiff University/Cardiff Half Marathon  after being influenced by a group of friends.
"I've chosen to run for cancer research at Cardiff University because the work they do is invaluable and pioneering. Cancer is something close to my heart with relatives having sadly passed away and people close to me suffering this year. I want to do all I can to support them in their fight against cancer.  It's the least I can do and nothing compared to what cancer patients and their family are going through.
"Training has been challenging and enlightening as it's a new experience for me. I did the 5k park run last weekend and my time was 25 minutes 59 seconds, which I was really happy with. It has been a blessing living so near Roath Park Lake as well as  some of the actual half marathon route – it has helped massively with training. I've found great inspiration from the Paralympics and other runners' JustGiving pages. I'm apprehensive about Race Day but also excited as it's a new challenge and I can't wait for 10 am when it starts."
 You can show your support and sponsor Ben on his JustGiving page .