Una Murphy (MA 1997)
22 July 2016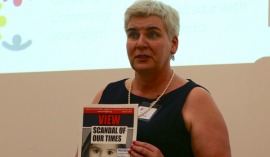 Una Murphy is co-founder of VIEWdigital.
I was working in Dublin as a news producer and reporter for media outlets such as BBC, Irish Times and RTE, but I wanted to study at Cardiff's School of Journalism, Media and Cultural Studies because of its brilliant reputation.
One highlight from studying at Cardiff University was meeting Geoff Mungham, former Director of Research at the School. He was a great support when I was studying and very popular with my class.
The MA gave me the confidence to make the move from news to current affairs and documentaries.
As a TV producer, I have filmed on location in the Palestinian West Bank, Germany, and United States as well as throughout Britain and Ireland. Documentary Film was one of the modules I studied during my MA as I wanted to transition from news to longer-form journalism.
After some time working at BBC Wales in Cardiff I eventually moved back to my home town of Belfast, Northern Ireland. I was always interested in digital media and had the opportunity to take part in a Nesta backed programme on digital skills for those who worked in television. As a result I was asked to cofound a digital magazine – VIEWdigital.
My advice to journalism students is to talk to people and ask questions to find out as much as you can about what makes them do what they do and that will make a great story. It is not the issue but the people behind the issue which makes the story.