Examined Life – Alice Gray (BSc 2013)
14 July 2016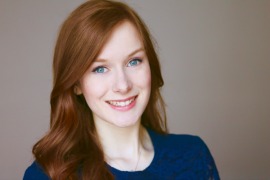 Alice Gray is the STEMinist blogger behind mindfulofscience.org.
I wanted to study Biomedical Sciences and to specialise in Neuroscience, and I knew all about Cardiff University's reputation for the subject. Also, as a Welsh person, having the opportunity to study in Wales was really important to me.
As part of my degree we were able to conduct human dissections, and that has stuck with me as one of the most valuable learning experiences I have ever had. It was a really unique opportunity, with Cardiff being one of few universities in the UK offering human dissections as part of the curriculum. It gave another dimension to my studies and helped me understand complex concepts on another level; it really amplified my passion and interest for the subject.
During my studies I started my blog, which looks at the lack of women in science and what we can do to improve female representation in the industry. In the year after I left Cardiff University, I worked hard to raise awareness for the issues that faced women in STEM, and I was invited to give evidence to the National Assembly for Wales' Business and Enterprise Committee's STEM Inquiry in Cardiff. I am now a full-time STEMinist blogger discussing how we can create frameworks to support women in the industry and alter curriculum to ensure young girls reach their full potential in science, technology, engineering and maths.
Last year, I was mentioned as part of the BBC's 100 Women Project a list of inspirational women for 2015. I will soon be flying to Paris to give a lecture at the European Space Agency about what the scientists, engineers and staff there can do to improve diversity in STEM. Since graduating from Cardiff, my blog has led me to do many things that a person my age would not have otherwise done. I have been able to get involved in governmental inquiries and help to shape public policy, as well as work with amazing Welsh organisations to better the landscape for women in science.
I would tell my past self to enjoy her time at University – the three years go by very quickly! My advice to a current student would be to find something you enjoy that supports your studies and develops you as a person. When I was a student, I started a blog, volunteered and was the President of the Neuroscience Society.
Some of my lecturers were some of the most interesting people I have ever met, and the friends I made at Cardiff University will be with me for life.
If I had to describe Cardiff University in five words, I would describe it as vibrant, bustling, enjoyable, challenging and rewarding.
I didn't just leave Cardiff University with a degree, but I left it with love for science. I really wanted to improve the industry, to better the representation of women in science and therefore better scientific research itself.