Gair Rhydd – Celebrating 50 years
27 October 2022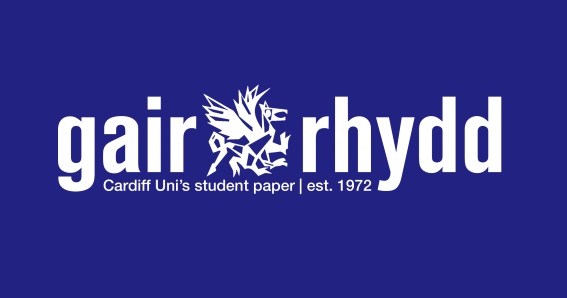 Gair Rhydd celebrates its 50th anniversary this year. From writing articles on typewriters and pinning them to layout boards for print, to publishing the paper online seamlessly, Gair Rhydd has been through many changes since its first edition on 3 October 1972.
Recently, we put a call out to our alumni community to share their memories of Gair Rhydd and what it has meant to them over the years. The response was incredible, with dozens of alumni reminiscing, sharing their favourite experiences and what they're up to now.
John Hartley (PhD 1977), Co-founder 1972
"I co-founded (and named) Gair Rhydd with Dave Aldridge. I was a PhD student in the English Dept. I'd previously edited the much older student paper Broadsheet. Currently I'm professor of digital media and culture at the university of Sydney. Happy anniversary Gair Rhydd!"
Geoffrey Gadd (BSc 1978, PhD 1978), (founding) Editor 1972-1973
"I remember including my cartoons among the usual articles about the perceived mismanagement of the University (cuts, property deals, rent increases, etc.), drug information, book and band reviews, and having to go to Swansea University to lay out the paper in the old-fashioned way for printing. I cannot recall why my involvement ended but I am very pleased that Gair Rhydd is still active after 50 years at a time when the "free word" is more important than ever."
David Else (BA 1982), Editor 1982-1983
"I was Gair Rhydd editor 1982-83. Back then, we typed (using a real typewriter) our articles onto sheets of paper and stuck them down on layout boards. If there was an error, we had to cut and paste – literally – using scissors and glue. We finished compiling on a Sunday evening, as the boards were due at the printers first thing every Monday, so I carried them back to my flat in Coburn St to keep overnight, sometimes stopping at the Woodville or New Ely (now the Vulcan Lounge) for a drink on the way home. Of course, I ensured the boards never got lost or damaged, as there were certainly no back-up files in that pre-computer age."
Maria Mellor (BA 2017, MA 2020), Editor 2016-2017
"I was part of the Gair Rhydd team for all three of my undergrad years, and the people I met there are still some of my best friends today. That office was like my second home and I'm so proud of the work we achieved, especially the 2017 general election special.
To the current and future teams: be brave. Be radical. Make bold strides and trust your gut along the way. The creativity you get to express here will teach you more than any qualification or job. Above all, make sure you proofread!"
Mandy Bradshaw (BA 1984), First female sabbatical officer editor 1984-1985
"Before internet or mobile phones, Gair Rhydd was the only way to find out what was going on. Copies were snatched as I put piles in halls and faculties, and advertisers' copies needed hiding. I remember editing the 200th issue, selling £8,000 in ads to cover a budget shortfall, long hours, good friends, and the buzz of a great story."
Joe Atkinson (BA 2016), Editor 2015 – 2016
"Anyone who's worked on Gair Rhydd knows that it quickly becomes a labour of love. My strongest memories aren't of the stories covered or column inches filled, but the times working through the night with the team to meet another deadline, or the thrill of seeing your name in print."
Jessica Warren (BSc 2019), Editor 2018 – 2019
"A standout moment from the Gair Rhydd newsroom that sticks with me was an eleventh-hour decision to pull the front page and start afresh. With our deadline looming, the team responded with vigour and determination. The adrenaline-fuelled moment felt like brief insight into a national newsroom's fast-paced editorial decisions."
David Maher Roberts (BScEcon 1991), Editor 1991-1992
"I have so many GR memories, it is hard to just pick out just one, but the one that always springs to mind is going to London to attend The Guardian Student Media Awards in 1992. We had won the year before (for the first time ever under Colin Eshelly/Brazier's editorship) and we were shortlisted again (under Sian Hoskins' editorship). I was there with some of my closest and dearest GR friends and when we were announced as winners, we made more noise than ever before – no decorum whatsoever. We had broken the stranglehold that Oxford's student paper had on the awards by winning two years in a row. I was so proud of the whole team. So proud."
Lisa Pritchard (BA 1995, PGDip 1997), editor 1995-96
"It was an incredible honour to edit Gair Rhydd: there were long hours, but it was lots of fun and an excellent foundation for a career in journalism. Congratulations on 50 years – here's to 50 more."
Sarah-Jane Bellis (BA 2003)
"I was at Cardiff studying sociology 2000-2003, I loved reading Gair Rhydd, the TV listings were always comic genius. Well done whoever wrote them."
Matt Nicholls (BA 1999)
"Fond memories of Thursday all-nighters pulling together news pages back in the late 90s with Paul Clarke and our much-missed friend James McLaren."
Rachel Mainwaring (BA 1996, PGDip 1997)
"I worked on Gair Rhydd from 1993- 96 before studying for a post grad in newspaper journalism and going on to work for Wales on Sunday/ South Wales Echo/ Wales on Sunday and WalesOnline. It was a great place to learn the ropes, write features and try out some vox pops. Used to get roped in for far too many pics by the photographers for my liking but it was great, great fun. Happy anniversary Gair Rhydd!"
Roger Faires (MEng 2007)
"My brother worked the digital pages back in 2000-2003.He had some sea monkeys on his desk which the sports desk team drank as a dare when drunk."
Georgina Cannon (BA 2001)
"In 1999 and maybe 2000 I think, I wrote the crossword! I really enjoyed sitting in the cafe in the History building and in the Taf secretly listening to people discussing it and working out the answers. I didn't like the fact that it was due on a Thursday though as I was invariably hung over after Wednesday nights at the union with the rest of the ladies' rugby team."
Mark Moran (BA 1987) editor 1987-88
"Editing Gair Rhydd was a relentless, all-consuming vocation. Then, suddenly, one day it just stopped. Both the summer term and my editorship were over. The end of my term of office coincided the last days of the Gair Rhydd office itself as Student Union was to be refurbished. The desks and filing cabinets were cleared away and accumulated layers of gig posters, front pages, cuttings and photos were stripped from the walls. However, that room lives on in back issues, album of photos, my memory and, hopefully, the recollections of the people with whom I worked.
I was privileged to be supported by a team of imaginative and talented reporters, photographers and section editors. Many went gone on to have media careers and friendships forged on press days in Park Place have lasted a lifetime."

If you enjoyed reading some of these stories and would love to share your own, you can reconnect and reminisce with fellow alumni on Cardiff Connected. There is a group set up dedicated to all things Gair Rhydd.
View the 50th anniversary edition of Gair Rhydd.