Starting a podcast: top tips from the pros – Bossing It
21 September 2021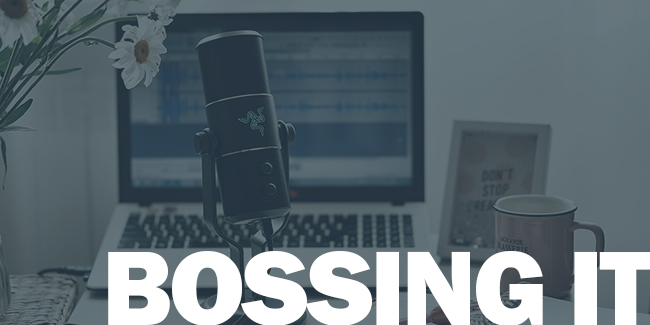 Podcasting is everywhere these days, with individuals and businesses alike creating audio edibles for listeners to eat up while on their commute, daily walk, or doing chores. Cardiff University alumni have (of course) jumped straight in, setting up their own successful podcasts and sharing what they're passionate about with the world. How did they do it? Well, we picked their brains to find out…
James Smart (MA 2016)
James is a successful and much-loved broadcast journalist based in Nairobi. Although he normally anchors for some of Kenya's leading television networks, he recently dipped his toes into the podcasting pool and made quite the splash with his investigative podcast, Case Number Zero. Here are his three top tips for new podcasters:
Format; depending on the topic there are dozens of ways to execute and bring to life your podcast, so think of ways on how to make your audience care as much as you do about what you're talking about. It's not true that interviews and sitting across someone are the only way to do podcasts. 
Be human, the nature of podcasts is such that we (the audience) have to buy your story, as the host(s) you need to cultivate a personality that resonates with us, find human moments to connect and bond with us whatever the topic you're handling. 
Create an earworm podcast, spend time thinking about your delivery and design of the show. These are simple things such as including some field recordings, sounds, and music to bring diversity into the experience. You're trying to make us care about something at the end of the day. 
Alice Gray (BSc 2013)
Alice is a media and communications professional with a passion for all things science, technology, engineering and maths relatedEM. She works with the BBC and produces her own YouTube channel, Gray Matter. She's been running her own podcast, Inside the Petri Dish, for several years, as well as helping BengoMedia to create the Health Fact Vs Fiction podcast and the Blue Cross' PetCast – so she's seen podcasting from all angles! Her main podcasting tips are:
Listen to a variety of podcasts. Before starting your podcast, you need to consider your style and how best to deliver your content. I found listening to a variety of podcast themes and formats helped me develop my style, because you can create something you'd want to listen to and therefore what other people would want to listen to as well.
The reason podcasting became popular is its raw feel. It's all about feeling like you are listening in on a conversation. This is a great tool when you are starting a podcast or participating, because you don't need to be polished. You can just concentrate on having a conversation that interests you and don't need to worry about the professional speaking style typical of other forms of media.
You don't need to splash out on kit. Of course, if you have the budget, expensive condenser microphones will make everyone sound like a BBC Radio presenter. But if you don't, recording on the audio app on your phone will give you something to work with. The grassroots nature of podcasting means the audience is a lot more forgiving and they aren't looking for radio quality, they are looking for interesting content!
Dr Dean Burnett (BSc 2003, PhD 2011)
Dean is a man of many talents and, as well is being a respected neuroscientist, he is a blogger, sometimes-comedian, author and podcaster. Brain Yapping – The Podcast is unplanned and unscripted, and his other podcast, Smart Welsh People, is a collection of conversations with a range of different guests. Here are his tips for creating a cohesive and entertaining podcast:
There is some debate about how long a podcast should be. With no schedule or restriction to keep to, it technically means they can be as long as you like, but 30-45 minutes is the recommended length, particularly if you're aiming for the educational/informative angle.


Technically, a podcast can be about anything, that's the beauty of it. But that doesn't mean every idea for a podcast will end up with people listening to it. In my experience, the best, most successful podcasts, are engaging, informative, organic, amusing, relatable. Any decent podcast ticks at least two of these boxes. The best ones tick them all. One of the most oft-quoted strengths of podcasts is that they invariably feel like 'hanging out with friends' rather than a more 'professional' mainstream offering. So, it's always better to have a podcast feature at least two people.
Take feedback seriously, look at what you could do to improve. Be willing to be harsh when making cuts if it makes for a better/tighter episode. And try to remember when recording that it's not just for you, but for the unseen audience. Get feedback from people who don't know you well. Ideally, making a podcast should be an enjoyable experience, but not just for you, otherwise that defeats the whole point.
Jane Cook (BA 2008)
Jane is an award-winning blog writer and PR consultant who co-hosts a foodie podcast called Hank! with her friend, Matt Appleby. She turned her passion for food and her connections within the Cardiff food scene into an easy-to-digest audio treat. She sums up some of her key take-aways from her own podcasting experiences:
Pick a topic you are passionate about: this will help to keep you motivated to publish regularly, and means you'll never run out of new ideas or things to say. Keep passing middle-of-the-night ideas saved in your phone and you can come back to them when you're ready to flesh them out into a new episode or two.
Think about your promotion plan: creating a podcast is only half of the job, the rest of the work will be finding an audience for it. Be tenacious, use social media, and make the most of your own existing networks – and new ones relevant to your podcast topic – to get the word out there. You need to find the people who want to listen to what you have made.
Ask the experts: Cardiff-based podcast production agency Bengo Media holds a free monthly 'Cardiff podcast club' which is open to anyone (there's a Facebook group too). It's good to be able to ask them any burning questions and troubleshoot when I hit a brick wall with anything too technical!
Scott McKenzie (BSc 2011)
Scott is the Head of Widening Participation and Outreach at Cardiff University. During the pandemic he was looking at innovative ways to engage with certain groups of students and came up with the University, Autism and You podcast, which he co-hosts with Freya Morris (MScEcon 2020). This is Scott's first taste of podcasting and here's what he's learned so far:
It's okay to go for a DIY approach. In the past year, our expectations have shifted in terms on online media. Previously, we thought that things needed to be polished, but the emphasis now is on the actual content because people know that you're recording these things at home. I did a recording when my neighbour was doing some work outside and it was quite noisy, so I ended up under the duvet with my mic, trying to block out the sound (and it was a really hot day as well!).
We realised quite early on that it didn't feel natural to be scripted. We story boarded our first 6 episodes, and kept them quite short, with 2 themes per episode. These were just short bullet points, so it wasn't too scripted. But everyone is individual, and it depends on what works best for you and your podcast format. 
In terms of naming the podcast, we originally came up with some bizarre, creative names but ended up just saying what it is and not trying to be too clever. This worked for us. For our audience, saying what it is on the tin is much more appropriate then having a hidden message in the title.
Sarah Orme (MA 2009)
Sarah is a successful digital editor, writer and podcaster, hosting both the We've Made It podcast and A Calmer Life podcast, which won the Best Health and Wellbeing podcast in 2020. She's worked in various media roles for the past 10 years and she's got some pearls of podcast wisdom to share with us:
Smile and nod. When we're speaking to someone in normal conversation, we have a tendency to show that we're interested in the other person by saying "mm" or "yes" while they're speaking. This can be very irritating on a podcast. You can get around this by smiling and nodding – this allows you to show you're interested without making a sound. It feels a little weird at first, but it works.
Always record a back-up. I learnt this lesson the hard way, when I nearly lost an interview with a celebrity guest. This can be on a phone or iPad if you don't have a second recorder.
Learn to pause and restart. I love podcasts because they're very forgiving! If you mess up, you can always pause and repeat what you just said. Make sure you tell your guests that they can stop and start again if they make a mistake too – it will help them to feel more relaxed.
The Cardiff University community are a helpful bunch, here to help you get ahead in your chosen career. You can browse through their advice and top tips on a wide range of business topics in our 'Bossing It' series.